Now in his fourth year in USask's College of Nursing, Bolaji-Joseph wants to provide that same sense of community in his role as the president of the Pan-African Student Association (PASA).
"When I first arrived at the university there was an African Students Association, which I felt reached many people in the community, especially Black students," said Bolaji-Joseph. "I felt very welcomed being a part of this association but because of COVID, the association stopped running."
While the pandemic prevented students from meeting on campus, Bolaji-Joseph and several of his friends and classmates decided to reactivate the association, rebranding as PASA in order to get new students involved. Now as the president of the organization, he hopes to be able to be an advocate for those Black and African students at USask.
"In terms of a student voice, I feel like we are able to help those who might be seeking financial or academic help, or even just offering assistance to those who might just be looking for someone to talk to," said Bolaji-Joseph. "My role here is to be that connector for people—to be a part of PASA to help create that community for those who might be far away from home. 
"I've been able to be a part of other associations, being able to connect with people you can relate to is good for your mental health. I know that it takes a while for new students here to get used to the environment. With PASA, I want to be able to provide that kind of space for students."
Now in his final semester at the College of Nursing, Bolaji-Joseph said he is looking forward to the next phase of his career, and hopes to do his part in terms of improving access to health care using the skills he picked up with PASA.
As the return to on-person campus events continue, Bolaji-Joseph noted that PASA has held several successful events, and looks forward to those events being held during Black History Month, including a gala event on Friday, Feb. 17 that will highlight and celebrate Black excellence on campus and in the community.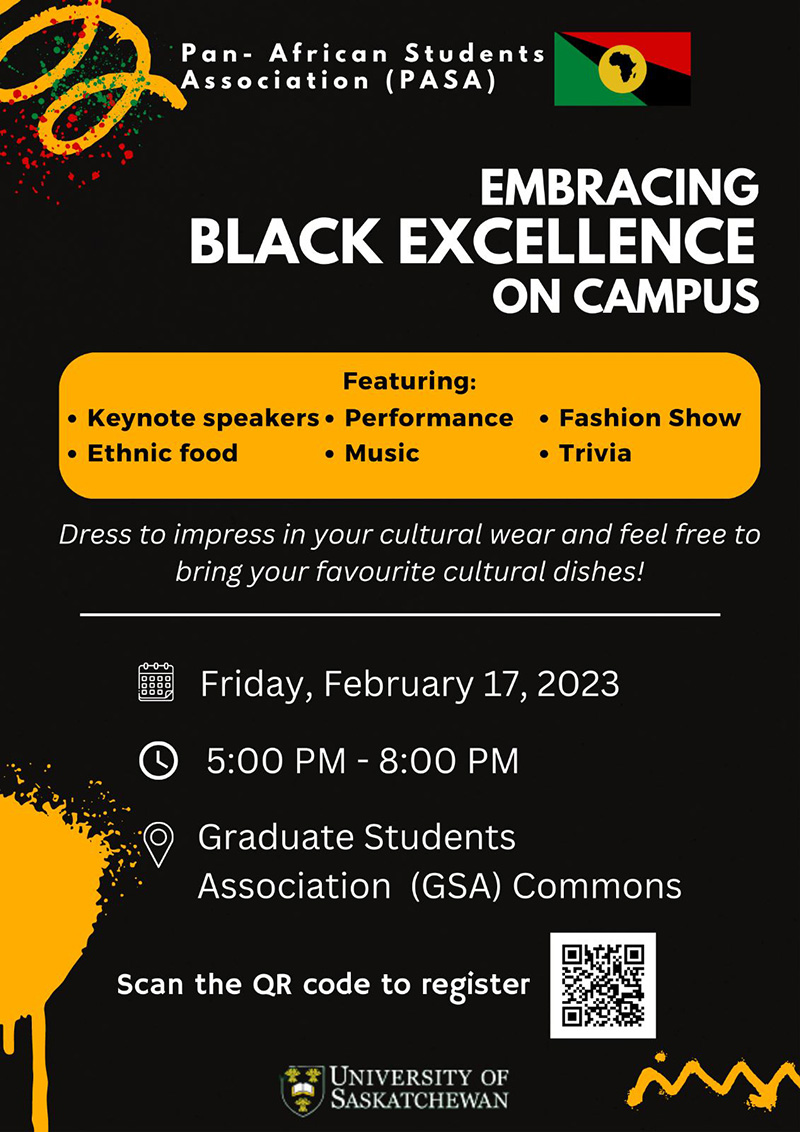 The event will feature a panel discussion, local performances, music and food. Speaker presentations include Elizabeth Adegbite, Daniel Nwabuko (Daeko), Anthony Olusola and Dr. Erique Lukong (PhD), and will be held in the GSA Commons on the USask campus. 
For Bolaji-Joseph the event is an important opportunity for the campus community to celebrate culture and tradition, while giving a space for the history and events happening throughout February. 
"For Black History Month, I feel like it is something to celebrate throughout the year. But having this month gives us a chance to amplify our voices, and as a minority group, we don't always get a lot of these chances. Black History Month gives us a chance to recognize the achievements of those people in the past. I'm always surprised to learn more about previous USask students who went on to achieve great things, as well as those Black Canadians who also contributed throughout history.
"It's important to show our students that they are able to achieve great things too!"
Visit USask's Black History Month website for more stories and information on events happening on campus and in the community during the month of February.