Matthew Robertson will officially receive his Bachelor of Science in Agriculture (major in Environmental Science, minor in Soil Science) at University of Saskatchewan (USask) Spring Convocation taking place in-person on June 7 at Merlis Belsher Place. He is also graduating with a Certificate in Sustainability.
Originally from St. Walburg, Sask., Robertson knew going into university that he enjoyed science and being outdoors and wanted a career that would combine both.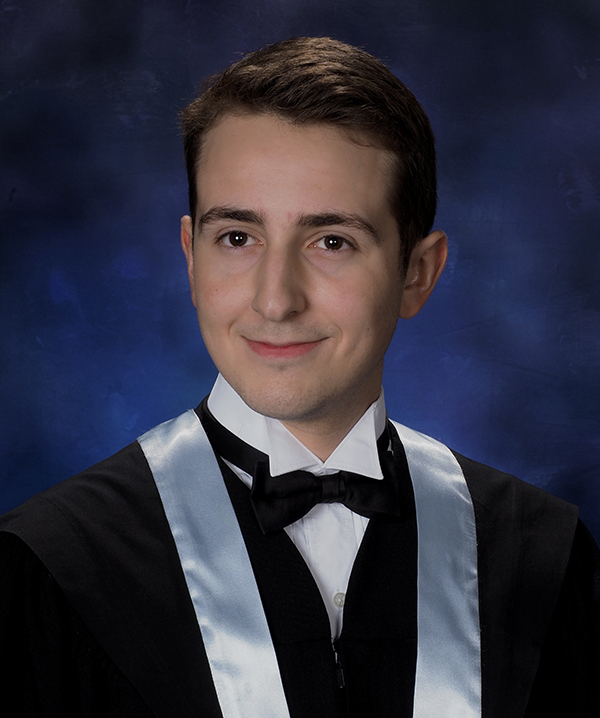 "The College of Agriculture and Bioresources (AgBio) offered the opportunity to get an education in environmental science while having the opportunity to learn about agriculture as well," said Robertson. "This allowed me to gain an education that would open the door to many job opportunities in Saskatchewan, both in the natural resources and agriculture industries."
A hands-on learning experience that stood out to Robertson during his degree was working as an undergraduate research assistant in the Applied Pedology Lab in AgBio.
In this position he was responsible for processing soil samples by separating the organic matter in the soil into two groups: fresh and well decomposed. Additionally, he assisted with field sampling, preparing samples for analysis, and performing pH/EC testing.
Working as a research assistant inspired Robertson to write an undergraduate thesis, "Comparison of Organic Matter Forms in Cultivated Wetlands at Depth and Between Two Soil Zones in Saskatchewan." His thesis was supervised by Dr. Angela Bedard-Haughn (PhD), dean and professor in AgBio. Robertson's thesis was a subset of PhD student Chantel Chizen's research on soil carbon storage in cultivated wetlands across Saskatchewan. Chizen provided Robertson with guidance on the writing and research of his thesis.
"This research will help with cultivated wetlands protection mechanisms and guide future management practices. In agriculture, research is critical in advancing management practices," said Robertson.
Another hands-on learning experience that benefited Robertson during his time in AgBio was the EVSC 380 Grassland Soils and Vegetation field course. During this five-day field course, students study the soils, vegetation, and landscape of the prairie ecozone.
"Trying to learn how to identify soils and grasses is difficult via a computer or book. The best way to get experience in identifying soil and plant characteristics is being in the field and having other people around you to learn from," he said.

Robertson made time to collaborate with classmates outside of class too, and was the president of the Environmental and Bioresources Student Association for the 2022/23 academic year. He also excelled academically and is the recipient of the P.M. and Y.Y. Huang Distinguished Undergraduate Award in Soil Science, awarded to the most distinguished graduate with a specialization in soil science. He was also the recipient of 11 scholarships during his time at USask.

"All of the friends and colleagues I have met at the College of Agriculture and Bioresources, and the support offered by professors and teaching assistants, has contributed to a sense of community and opportunities for networking that would be hard to rival in any other institution," he said.

Robertson has already secured post-graduation employment as an Ag innovation apprentice for Simplot Grower Solutions and is looking forward to the future.

"I hope to continue to learn and grow as a professional in the agriculture industry in Saskatchewan," said Robertson.