When a group of Indigenous students started a grassroots movement four decades ago to create a department that focused on Indigenous Studies, their actions were the beginning of a larger impact on academia on a local and international scale.
On Sept. 22, the Department of Indigenous Studies will hold a 40th anniversary celebration to recognize its alumni, students, staff, and faculty, and accomplishments from the past 40 years. The event will be celebrating its graduates and "Indigenizing the Academy since 1983."
"We'll be bringing together alumni and hearing their voices—especially the early alumni, the folks that pushed for the department," said Métis scholar Dr. Allyson Stevenson (PhD), the Gabriel Dumont Institute Chair in Métis Studies. "The early student activists demanded that a space be created to learn about their histories in ways that reflected their accurate historical Indigenous perspective."
"We want to empower students today through understanding how Indigenous students organized the ways in which they utilized the institutional structures to push for the department," she said.
The event will focus on the Knowledge Keepers, alumni, faculty, staff, and students who helped make the department what it is today. As the department was established, strong influence from Elders, Knowledge Keepers, community activists, and traditional knowledge helped shape its foundation.
"(Indigenous Studies) is a wonderful discipline to be in," said associate professor Dr. Winona Wheeler (PhD). "It allows Indigenous scholars the freedom to do the kind of work the way they want, and the way they think it should be done."
Wheeler is of Cree/Assiniboine/Saulteaux and English/Irish descent. She is a member of the Fisher River Cree Nation in Treaty 5 Territory. She joined the Department of Indigenous Studies in 1988, about five years after it was established.
"There was nothing (about Indigenous people) in any other discipline (before 1983), except a little bit in anthropology archaeology," said Wheeler. "There was also one course in (the Department of) History that had something to do with Indigenous people."
"There were legitimate reasons why Indigenous students especially wanted to have a stronger Indigenous presence on this campus," she added.
Before 1983, the Federation of Sovereign Indigenous Nations (FSIN) — then Indian Nations — were looking to expand Indigenous education. In the 1970s, after approaching USask with the idea of partnering to create a federated college, FSIN approached the University of Regina to create the Saskatchewan Indian Federated College, which eventually became the First Nations University of Canada.
A group of students in the USask Indian Teacher Education Program (ITEP) and Northern Teacher Education Program (NORTEP) at USask's College of Education—including now well-known Indigenous educators Dr. Verna St. Denis (PhD), John Dorian, and the late Dr. Earl Cook (PhD) and Dr. Cecil King (PhD) — focused on USask and advocated for Indigenous courses to be developed on campus. Métis Local 126 was also instrumental in leading the effort to create the Native Studies (NATST) program.
In 1982, the university created NATST and recruited two faculty members to administer and teach it. There was enough support that the program expanded to become a department a year later. The relationship with ITEP, NORTEP and the Saskatchewan Urban Native Education Program (SUNTEP) programs were essential to grounding the department and creating a space on campus, Wheeler said.
The Department of Indigenous Studies has evolved and grown since its inception, including developing master's and PhD programs. The department also fulfils the recent requirement that all undergraduate degrees in the College of Arts and Science must include an Indigenous Studies course.
"I strongly believe that Indigenous content course requirement is absolutely vital, especially in Saskatchewan, where we have the highest per capita population of Indigenous people in Canada," Wheeler said. "But it should be done with sincerity and resources ... and in a way that builds capacity in other departments as well."
The department promotes experiential learning, from involving students in volunteer opportunities at events like powwows, to offering student exchange and study abroad experiences.
"Every single course we offer has relevance to Indigenous communities," Wheeler said. "The insight, the skills, the understandings that students get from each of our courses, are relevant to Indigenous life today."
Dr. Leonzo Barreno (PhD) is an assistant professor in the Department of Indigenous Studies. Barreno is of K'iche' Maya descent, originally from Guatemala. He has taught Indigenous-related courses for nearly 27 years.
"When it comes to Indigenous studies, it's in its rightful place, and you know, to me that's worth celebrating. That we are not a copycat of anything—it's based on our peoples' knowledge systems," Barreno said. "As a Maya, we know we have a rich history, not just in our accomplishments but in our way of thinking. When we pass that onto our students, our students realize that we are a discipline based on a deep Indigenous knowledge."
Under the supervision of Wheeler, Barreno completed his PhD in the Department of Indigenous Studies.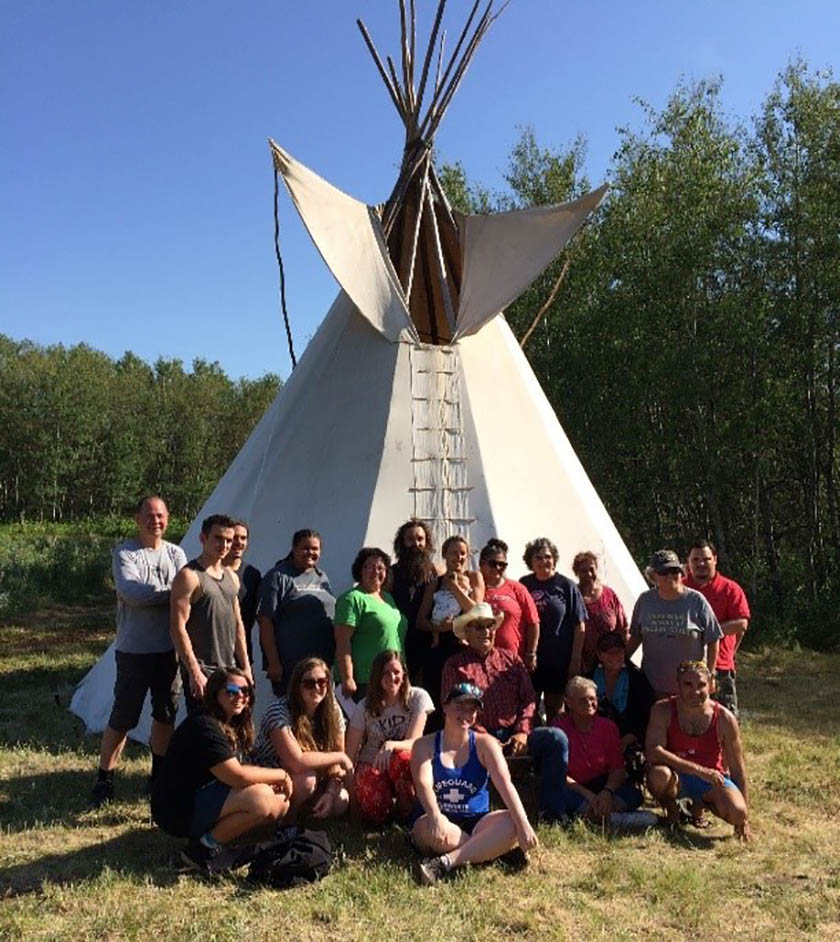 USask was one of the few universities in Canada that had an Indigenous Studies department offering graduate and undergraduate programs in the 1980s.
"Saskatchewan has been at the forefront of higher education for Indigenous peoples," Barreno said. "I think during the 40th anniversary celebration, we will hear stories about (the department). It was not easy, so I'm thankful for the people whose ideas, whose activism, led to the creation of the department."
Adriana Juárez is Mestizo and a recent graduate of the Indigenous studies undergraduate program currently pursuing a master's degree. She is a research assistant with the department and part of the organizing committee for the 40th anniversary event.
Juárez noted that the celebration will feature interactive panels with alumni, current undergraduate and graduate students, current and former faculty members and department heads, keynote speakers and a session honoring alumni. The day will also include a roundtable discussion of the vision of the next 40 years for the department and will conclude with a gala dinner with live entertainment.
"It will be cool to see the differences in previous experiences compared to now – what might the future be for Indigenous Studies," Juárez said.
The Department of Indigenous Studies 40th Anniversary Celebration takes place on Sept. 22 at the Gordon Oakes Red Bear Student Centre starting at 8:30 am and concluding with a gala dinner at 6 pm. Registration is free for the learning and sharing event and $35 per ticket for the gala dinner.