"I think my parents have told me that me asking 'why?' as a kid sometimes got a little much because no matter what they said, that was the follow-up question," said Mayhew, whose innate curiosity about how things worked, paired with his love of science and math, ultimately led him to the College of Engineering at the University of Saskatchewan (USask).
He graduates today at the top of his class with an average of 95.85 percent, earning the APEGS (Association of Professional Engineers and Geoscientists of Saskatchewan) Gold Medal. Notably, he earned a final grade of 100 percent in 10 classes over the course of his degree, including a perfect grade in his final semester in ME 476: Multiphase Flow and Heat Transfer.
His academic achievements also included earning one of the two Governor General's Silver Medals awarded during USask Spring Convocation to the undergraduate students with the highest academic standing.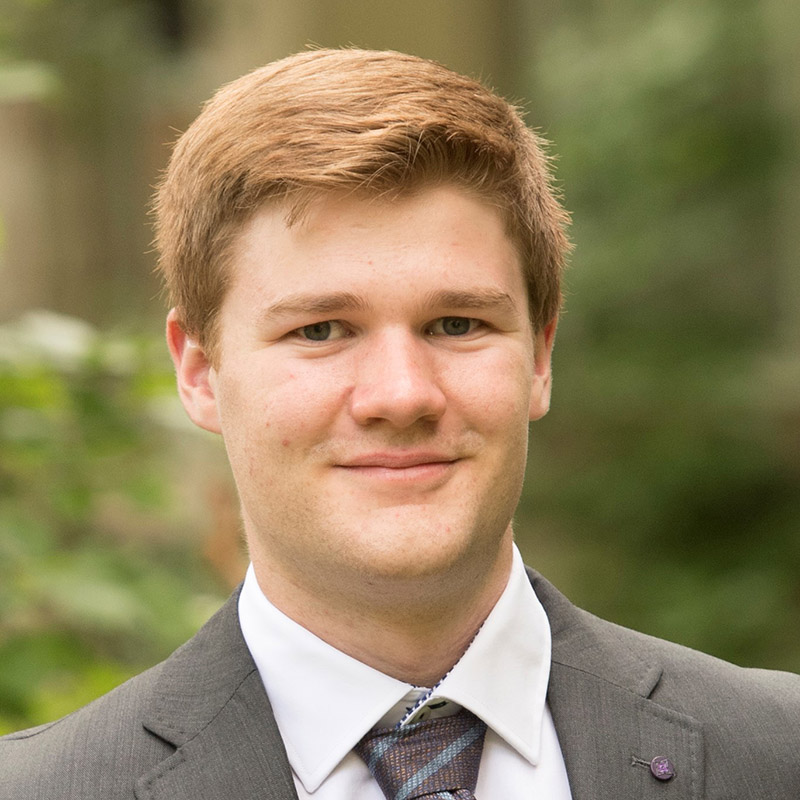 Mayhew, who grew up in Saskatoon, said his dad nurtured his love of math, teaching him extra lessons beyond what was covered in class.
"I think he taught me scientific notation in Grade 3," Mayhew recalled.
From the age of three and on into elementary school, marine biology was his first love in science. "I had a huge collection of non-fiction books about dolphins, whales and marine mammals," he said. But a transition from biology to technology began after he attended SCI-FI Science Camps where he got some exposure to basic coding and other types of engineering.
In Grade 9 at Bishop James Mahoney High School, when he was assigned to do a class presentation on a Science, Technology, Engineering, and Mathematics (STEM) career, Mayhew decided to speak about aerospace engineering and has chosen to pursue that path ever since.
He joined the University of Saskatchewan Space Team (USST) during his second year in USask Engineering, getting involved on the mechanical sub-team with the RADSAT-SK cube satellite project and helping with development of the USST's new rocket project.
In early June, Mayhew was in Florida to see the launch of the SpaceX CRS-28 rocket from the Kennedy Space Center with the cubesat onboard, headed to the International Space Station.
When the launch was delayed two days in a row, Mayhew and a couple of other RADSAT-SK teammates who could not extend their stays instead found themselves in Toronto's Union Station watching the launch livestream online. It marked the first time a Saskatchewan-made satellite was launched into space.
"I don't really know how to describe it," he said. "It's just amazing to see it go up and know that after all our hard work we actually succeeded."
RADSAT-SK faculty supervisor Sean Maw speaks highly of Mayhew both as a student and team member.
"Alex has been a model engineering student throughout his undergraduate career, exhibiting exemplary conscientiousness, hard work, maturity, and insight," Maw said.
"Of special note was his key role in the successful RADSAT-SK cubesat project. Alex's peers always knew they could count on him for timely and high-quality design work."
Mayhew said the experience of working with a multidisciplinary team, communicating and prioritizing a variety of needs, was valuable, as was the opportunity to put theory into practice, with both the satellite and the rocket projects.
"I think it gives you practical experience that you can't get from any of your classes when it comes to solving problems. It's also great to have the design experience in the industry that I'm interested in. Having knowledge of rocket engines and being able to do the analysis or the even the thermal analysis for the satellites is really important in the aerospace industry."
Mayhew plans to begin working full-time this fall while he considers potential paths for graduate studies in aerospace engineering.
Having a closeup look at how the various teams came together to co-ordinate the CRS-28 launch, including the Canadian Space Agency, NASA, and SpaceX, has him thinking about the possibility of advancing Canada's space industry.
"It would be really amazing if Canada had a launch program where we could launch our own rockets into space. That's something that I would really be interested in furthering in Canada."