"While growing up, I frequently visited Saskatchewan to see family and always wanted to move to Canada," said Tori Redman. "As soon as I graduated from high school, I moved to Saskatchewan and started my schooling at the University of Saskatchewan (USask)."
Redman grew up in in the United States in Algonquin, Illinois. Her parents met each other as students in Seager Wheeler, one of USask's student residences. After graduating from USask, Redman's parents, who both grew up in Saskatchewan, moved to the United States for her father's chemical engineering job.
Redman will soon join her parents in USask's alumni network as she is set to graduate. She will officially receive her Bachelor of Science in Agriculture with Great Distinction (major in Environmental Science, minor in Applied Plant Ecology) at USask Fall Convocation on November 8 at Merlis Belsher Place.
For Redman, deciding to study environmental science was a natural choice.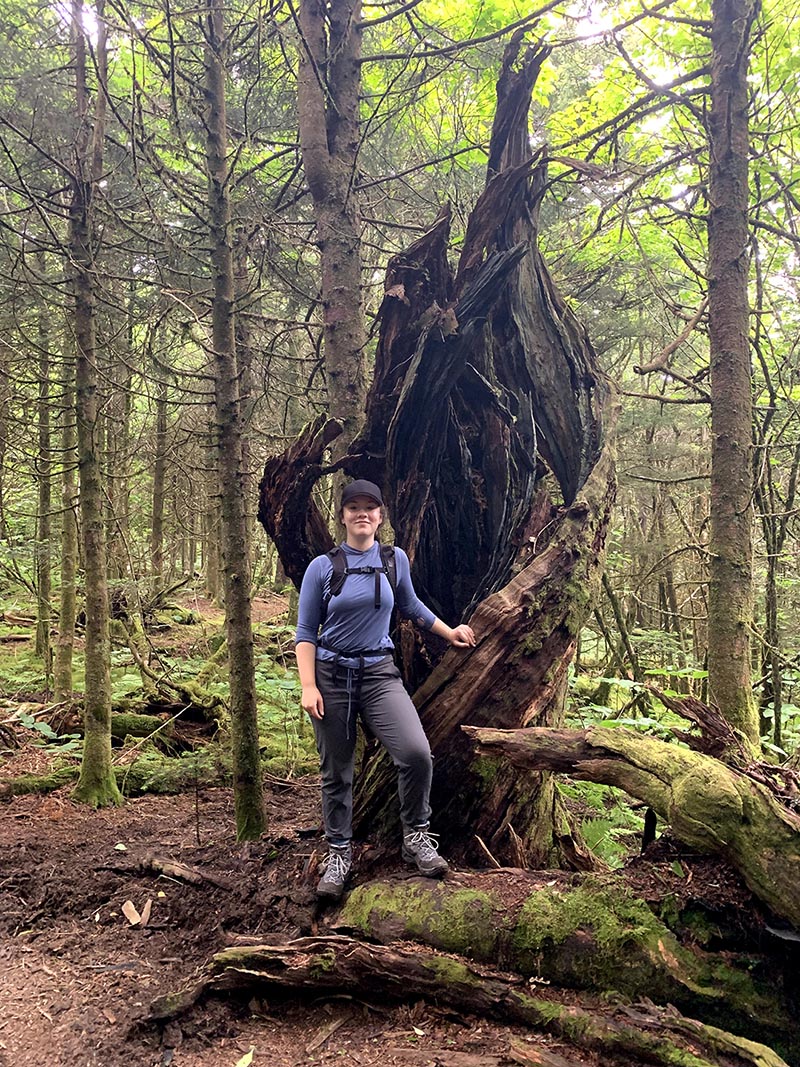 "I've always felt deeply connected to the environment. I spent a lot of my childhood outdoors whether it be with my friends at the local creek or at my grandparent's farm outside of Punnichy, Saskatchewan."
Redman was drawn to the USask College of Agriculture and Bioresources for its environmental science major, small class sizes, and high-quality academic advising.
"I had the most amazing advisor, Dr. Colin Laroque (PhD), who helped me so much through my years. He helped cater my degree to my interests and was always friendly and attentive."
In addition to academic advising, teaching, and research, Laroque is also the head of the USask Department of Soil Science. For the College of Agriculture and Bioresources, it's important that students learn from industry-leading researchers such as Laroque. 
This includes Dr. Eric Lamb (PhD), professor, and Dr. Angela Bedard-Haughn (PhD), dean and professor, who together teach the EVSC 380.3 Grassland Soils and Vegetation course that Redman took.
"Every day of the field course we travelled to different locations where we had hands-on learning experiences such as digging soil pits, identifying plants and soils, observing topography, and gaining other field skills," said Redman. "This course is where I learned most of my plant identification skills."
Redman also participated in the co-op program offered by the USask Department of Geography and Planning. During her first co-op summer she worked for Prince Albert National Park in resource conservation. Redman's co-op placements provided her with first-hand knowledge of Canada's boreal forest and valuable experience for her resume.
"During my first co-op summer, I participated in conservation projects such as bird, loon, and water quality monitoring, human-wildlife conflict, range health assessments, invasive species removal, and many other opportunities."
During her second summer in the co-op program, Redman worked as a field worker with Environment Canada in the Canadian Wildlife Service Boreal Bird Monitoring Program.
"I would wake up before dawn and bushwhack (hike off trail) to global positioning points to monitor birds and the surrounding vegetation. I camped for most of the summer and travelled to parts of northern Saskatchewan and Manitoba via canoe, float plane, truck, and on foot.
Redman's co-op work experience paid off and she is now employed as a casual wildlife technician with Environment and Climate Change Canada in the Canadian Wildlife Service Branch.
"Thankfully, there are a lot of options for environmental field work in Canada, so I'm excited about the future. Once I have an established career, I would love to settle down on a homestead or commune up north and continue to help make a difference for the environment."