"As a new First Nations lands manager, I knew that the Kanawayihetaytan Askiy program was a perfect fit to build upon my educational knowledge base," said Angie Mose.
Kanawayihetaytan Askiy (KA) means "let us take care of the land" in Cree. This academic program is offered by the College of Agriculture and Bioresources at the University of Saskatchewan (USask) and offers both certificate and diploma options.
The KA program examines environmental, legal, and economic aspects of land and resource management in Indigenous communities. Students learn about Indigenous rights, strategic planning, land use planning, traditional knowledge, resource management, intellectual property law, and project management.
Mose will officially receive her Kanawayihetaytan Askiy Certificate at USask Spring Convocation taking place on June 7 at Merlis Belsher Place.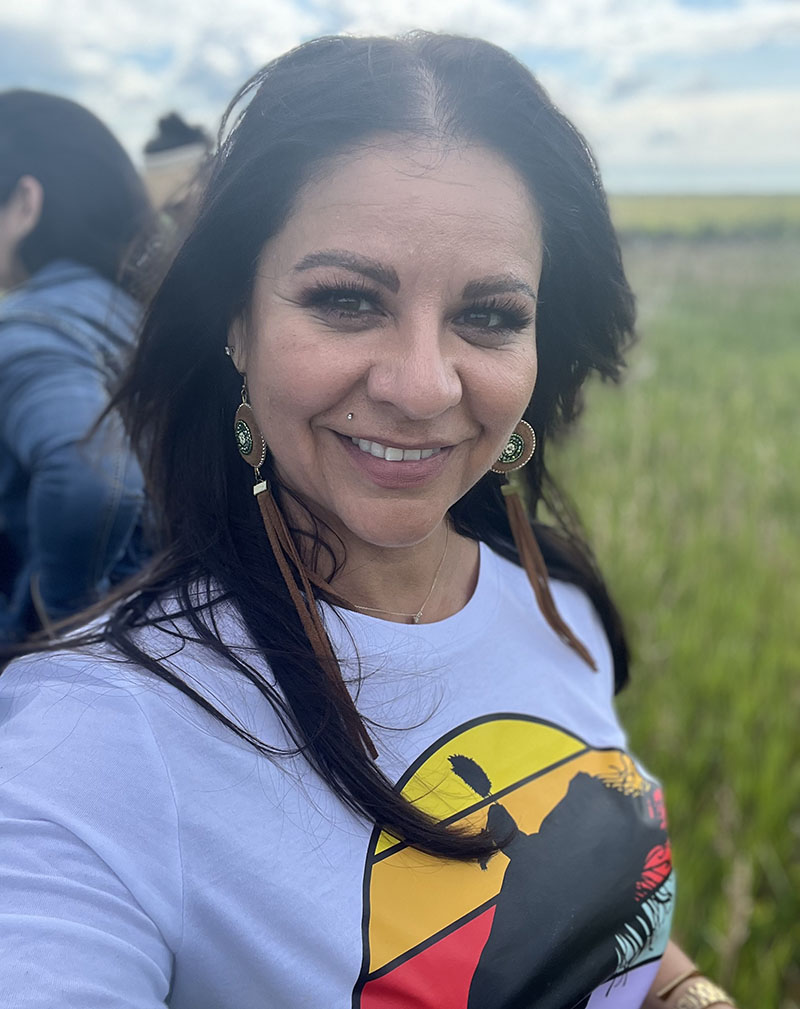 The KA program came highly recommended to Mose from an alumna of the program. As a member of the Stellat'en First Nation and living in Fort Frances, Ont., Mose benefited from the program's blended learning model of in-person and remote classes that attracts students from across Canada.
The blended learning model accommodates the professional work lives of students. Students travel to the USask campus in Saskatoon three times a year for two weeks of in-person instruction, field trips, and laboratory work. The students then return home for 7-10 weeks of remote study.
"There was field work where we attended off-campus locations to complete labs and various studies," said Mose. "The hands-on learning portion and travelling to visit beautiful locations was my favorite for learning and allowed for networking and lifetime friendships to be formed. Our class remains closely united in friendship, and we support each other in our professional roles."
Some of these off-campus locations included the USask Kernen Crop Research Farm to collect and study soil samples and visiting the Wanuskewin Heritage Park. At Wanuskewin, students explored the Opimihāw Walk to learn more about Northern Plains Indigenous histories. The students also completed a GPS mapping exercise on geocaching at Wanuskewin.
Mose's previous work experience in land management benefited her throughout her time in the KA program, which was her first post-secondary education experience.
"As a mature student having never attended university before, I realized how much my career and work over the years had a lot of value to build knowledge and skills to attend and complete university-level assignments, papers, and tests at an advanced level," said Mose.

"The support and encouragement I received from my employer, the Agency One First Nations Board of Directors, was positively influential in balancing my work commitments to achieve a 92 per cent average overall in my studies."

Mose was recognized for her commitment to academic achievement and was awarded the CIBC Indigenous Student Award to the top Kanawayihetaytan Askiy Graduate.
Now that her Kanawayihetaytan Askiy Certificate is complete, she has been accepted into the National Level Professional Land Management Certification Program Level II: Technical Training offered by the National Aboriginal Land Managers Association.
With continued learning in the future, she will bring what she learned to her role as a First Nations land manager for Agency One First Nation. Agency One First Nation is Anishinaabe in the Treaty 3 Territory and as joint owners, brings together the Couchiching, Mitaanjigamiing, Naicatchewenin, and Nigigoonsiminikaaning First Nations in Fort Frances, Ont.
"The privilege of getting an education and graduating is one of my proudest accomplishments but I also realized that hard work is required for success in career with or without an education," said Mose. "However, I cannot express how much an education maximizes knowledge, elevates skills, and builds discipline."