Jordan Shirley is a Master of Soil Science student in the College of Agriculture and Bioresources (AgBio) at the University of Saskatchewan (USask).
"It is an honour to receive this Indigenous Academic Achievement Award," said Shirley. "As a Métis person it feels good to represent the kind of research that we can contribute towards society and be recognized accordingly." 
Shirley's research is focused on finding sustainable solutions to crop disease. His master's thesis is "Evaluation of Rhizobium spp. as effective biocontrol agents towards Aphanomyces root rot in field pea (Pisum sativum)." His thesis is supervised by Dr. Jim Germida (PhD), emeritus professor and Dr. Fran Walley (PhD), associate dean academic and professor in the Department of Soil Science in AgBio.  
"This project is examining the potential for natural soil microbes called rhizobia to be applied to pulse crops to reduce the severity of disease occurrence. My research aims to contribute towards developing a sustainable solution to manage crop diseases as opposed to chemical treatments and sprays, which can result in widespread environmental degradation."
Sustainability of natural resources is important to Shirley, who previously worked as a tree planter in remote areas of Canada.
"Seeing firsthand the scale of forestry and current practices in the industry resonated profoundly, and it is now my opinion that we can greatly improve the sustainability of these systems. It wasn't until after this experience that I was able to foster an appreciation for the ecosystems which sustain our natural resources."
To conduct his research, Shirley utilizes the plant growth chambers located in AgBio's Controlled Environment Facility (Phytotron), along with lab-based experiments.
"The plant growth chamber trials focus on the application of these micro-organisms in the plant system, and examining how this impacts the overall plant health. The lab-based experiments involve a diverse set of rhizobia isolated from legume crops and evaluating their interactions with root rot pathogens."
Shirley's research is ongoing, but so far, he has discovered some unique results.
"It looks like soil micro-organisms can behave differently depending on which nutrients are available to them," he said. "For instance, certain micro-organisms were found to be antagonistic towards the plant pathogen when fed a specific diet, but not when fed a different diet. This may indicate the importance of managing nutrients in soil systems to allow certain micro-organisms to be more effective in their ability to mitigate disease in plants."
The real-world application of this research could lead to healthier and more sustainable options for agricultural producers to prevent crop loss from disease. Shirley's research receives support from the Natural Sciences and Engineering Research Council (NSERC).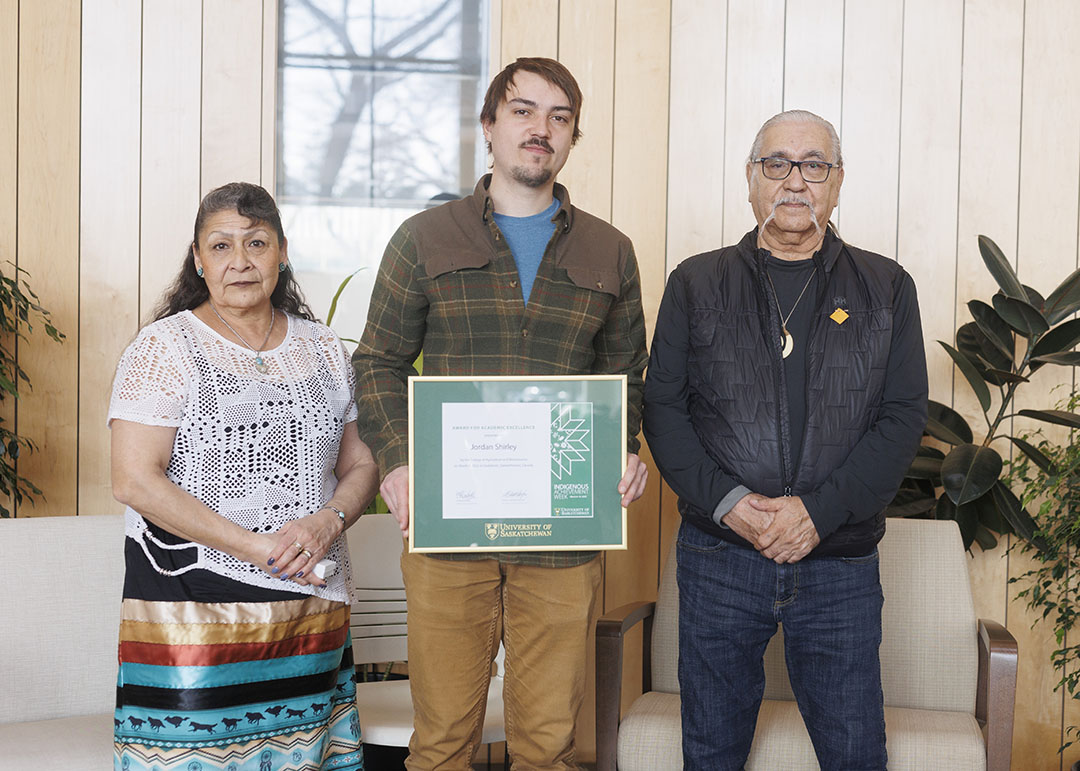 A love for sustainability goes beyond research for Shirley. After completing his master's degree, he would like to pursue a career in the conservation, research, and documentation of Canada's diverse ecology. He has also started his own business, Boreal Blue. Boreal Blue creates sustainable goods such as hiking sticks, coffee tables, etc., from upcycled forest waste products.
"I hope I can foster an improved connection to the wilderness near us and reimagine how we use the resources we have around us."