The University of Saskatchewan (USask) and the University of the South Pacific (USP) are exploring ways to collaborate on future initiatives that could benefit students and researchers at both institutions.
On July 20-21, 2023, USask welcomed Dr. Pal Ahluwalia (PhD), USP's vice-chancellor and president, to USask's main campus in Saskatoon. Ahluwalia was hosted by Dr. Airini (PhD), USask's provost and vice-president academic, and met with USask leaders, faculty, and staff during his visit, including Dr. Baljit Singh (PhD), vice-president research.
Ahluwalia, a USask graduate, said his father always encouraged him to pursue post-secondary education, and throughout his career he has witnessed firsthand the doors that education can open.
"I think education is the most powerful tool for transformation," Ahluwalia said.
Ahluwalia and Airini first met at a breakfast in 2022 in New Zealand, where Airini grew up and where she earned degrees at the University of Canterbury and Massey University prior to her PhD studies at the University of British Columbia. Both university leaders felt it was a natural fit to discuss how USask and USP could collaborate, given Airini's ties to the South Pacific nation of New Zealand and Ahluwalia's ties to Saskatchewan.
"We said, 'We should be working together and doing more things together.' We're really exploring where we might partner," said Ahluwalia.
Airini said it's important that universities around the world work together to help solve the biggest challenges facing the world today, such as climate change, and food and water security. Through its University Plan 2025, USask has articulated its bold ambition to be the university the world needs. Airini noted that the University of the South Pacific is located in the Pacific, which comprises one-third of the surface of the globe.
"USask aspires to be of service to the world. The discussions this week build on that potential. The University of the South Pacific is at the leading edge of learning and scholarship in the part of the world that makes up a third of our planet," said Airini. "We appreciate the opportunity to share about USask programs and research, and to learn about innovations and initiatives that are happening in the Pacific, where the University of the South Pacific leads."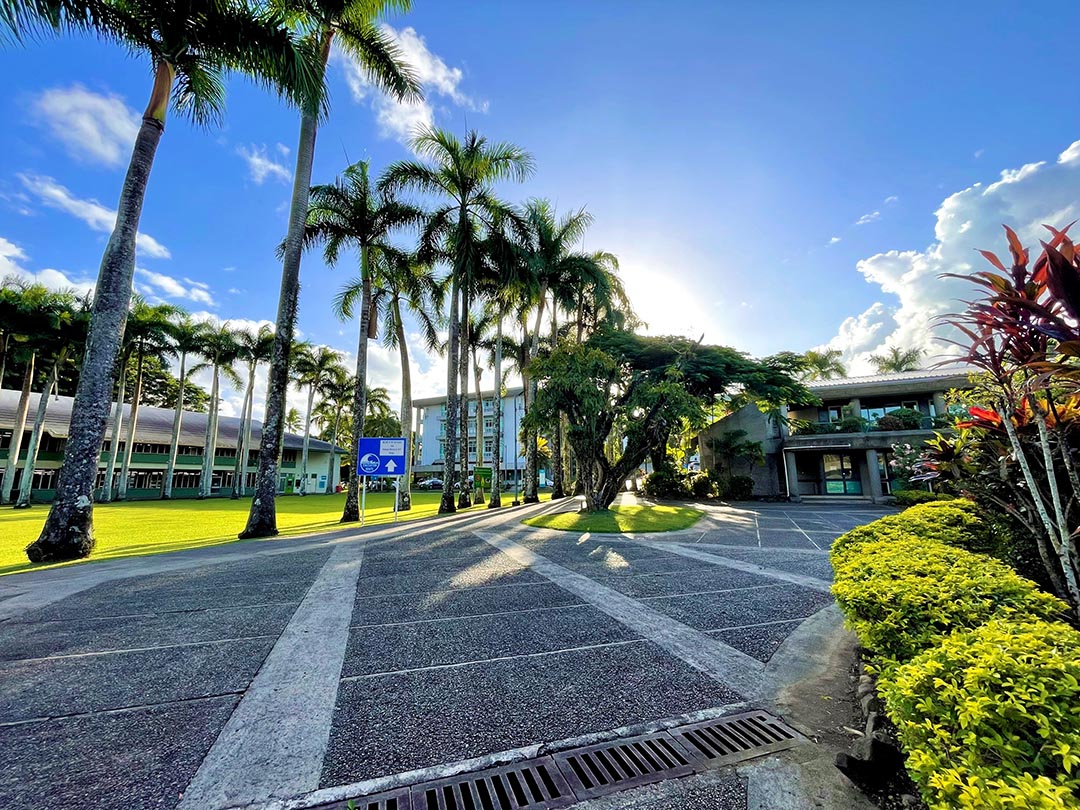 USP is an international university serving 12 Pacific Island countries: Cook Islands, Fiji, Kiribati, Marshall Islands, Nauru, Niue, Samoa, Solomon Islands, Tokelau, Tonga, Tuvalu, and Vanuatu. The university has campuses in each of its member countries, including three campuses in Fiji, where it is headquartered. USP is one of only two regional universities in the world—along with the University of the West Indies—and is known as an international centre for teaching and research on Pacific culture and environment. It is home to about 30,000 students living in island states situated across 33,000 square kilometres of ocean.
USask's main campus is situated in Saskatoon, Saskatchewan, Canada, on Treaty 6 Territory and the Homeland of the Métis. USask, a member of the U15 Group of Canadian research-intensive universities, is a world leader in water and food security, vaccine development and infectious diseases, and human, animal, and environmental health.
The USask campus holds fond memories for Ahluwalia, who was born in Nairobi, Kenya, and moved to Saskatoon as a high school student. Upon graduating from high school at City Park Collegiate, he began his studies in USask's College of Arts and Science, earning his Bachelor of Arts degree in 1981 and his Master of Arts degree in 1983 in political studies before pursuing a PhD in politics at Flinders University in Adelaide, South Australia. Ahluwalia's brother, Moni, also studied at USask, earning a Bachelor of Commerce degree in 1981.
Ahluwalia's visit to USask marks the first time he has returned to his alma mater in about six years. His visit to Saskatchewan included a trip to the 2023 Back to Batoche festival with Airini and a tour of the Gordon Oakes Red Bear Student Centre and other parts of the USask campus. Ahluwalia's nephew, a USask alumnus, also drove Ahluwalia around the campus, which he noticed has changed since previous visits.
"I see a lot of new buildings; I see a lot of new infrastructure, which is great," he said.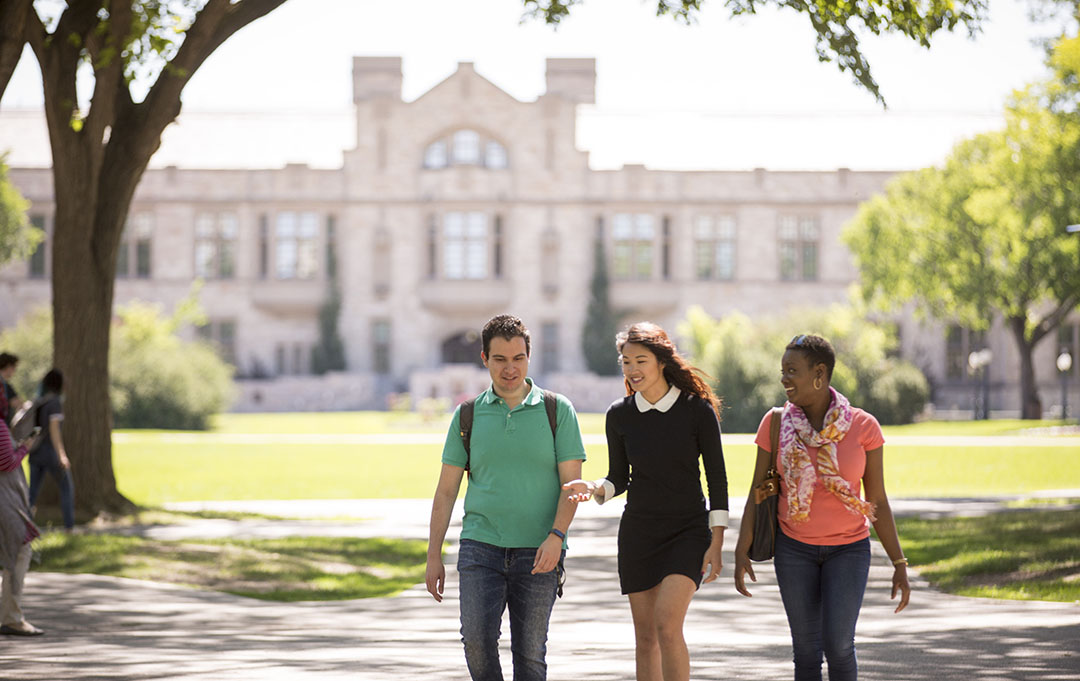 During an interview in USask's Peter MacKinnon Building, Ahluwalia recalled enrolling in diverse courses as a first-year student in the late 1970s at USask's College of Arts and Science, where he further honed his natural interest in political studies. Ahluwalia credits his USask mentor Dr. Jeffrey Steeves (PhD), a political studies professor emeritus, with having a significant influence on his educational and career paths. Steeves' research focused on Africa, including Kenyan politics, so Ahluwalia enrolled in all of Steeves' undergraduate classes and completed his master's degree under Steeves' supervision.
"He was a brilliant teacher," Ahluwalia said.
Ahluwalia's master's thesis at USask focused on Kenyan politics, which later resulted in his first publication: a chapter in a book. Ahluwalia recalls how Steeves encouraged him to apply to Flinders University for his PhD so that he could study with a noted scholar of Kenyan politics, Dr. Cherry Gertzel (DPhil), who later became Ahluwalia's doctoral supervisor.
After completing his PhD at Flinders, Ahluwalia was offered a job at the University of Adelaide, one of Australia's top universities. He has since held positions at universities around the world, including the University of California, Berkeley; University of California San Diego; Goldsmiths, University of London; and the University of Lethbridge, in Lethbridge, Alberta, Canada. He has also served as the pro vice-chancellor and acting deputy vice-chancellor at the University of South Australia and as the pro vice-chancellor at the University of Portsmouth in the United Kingdom.
Ahluwalia was first appointed as vice-chancellor of the University of the South Pacific in 2018 but was controversially deported from Fiji by the government in February 2021 after raising concerns about corruption. While that was a difficult time for Ahluwalia and his family, he believes he took "a very ethical stand."
"I think ethics are something that are very crucial to me, and I think that's also something that comes partly from the education that you get (at university)," he said.
When a new government came into power in Fiji, one of the government's first acts was to allow Ahluwalia to return to Fiji from Samoa. A champion for good governance, Ahluwalia resumed office in August 2021 and remains committed to his vision to steer USP to become a world-class institution through "Shaping Pacific Futures."
While his vision is to lead USP to become one of the world's best universities, Ahluwalia said he has been reminded by USP students how important the institution is to the Pacific and to people living in the region.
"For every Pacific Islander, the dream is to be at USP," he said. "It's a very special university in that regard—so to be a custodian of that kind of legacy and history, it's a real privilege."
In addition to his work as a university leader and administrator, Ahluwalia is a highly respected researcher and scholar. His interdisciplinary research focuses on post-colonial theory in Africa, building on his previous fieldwork in Kenya and Uganda, and his interests lie in African studies and social and cultural theory. He is a prolific publisher and the author of several books, including Politics and Post-Colonial Theory: African Inflections; Post-Colonialism and the Politics of Kenya; Plantation and the Politics of Sugar in Uganda; and Out of Africa: Post-Structuralism's Colonial Roots.
While Ahluwalia now lives in Samoa, far from his previous home city of Saskatoon, he continues to look back with fondness on the time he spent at USask. He believes his USask education provided him with an excellent foundation from which to launch his academic and administrative careers.
"I think this is a great university," he said. "It sets you up for lots of things, and I think the undergraduate education here is of really high quality. I'm really grateful for the opportunities that arose because I went to university here."
Together we will create inspired places for people to address the challenges of the future. We invite you to join by supporting visionary spaces at USask.