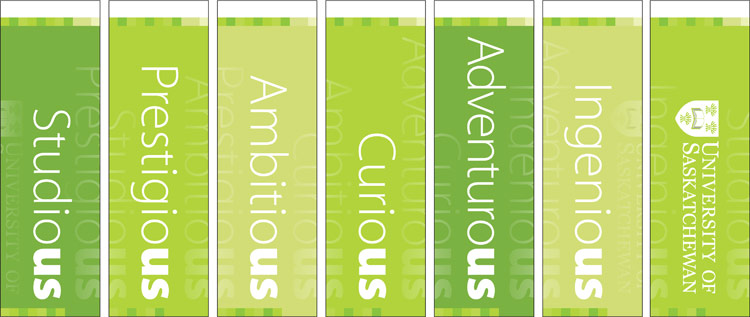 A series of new banners featuring the words will soon be installed along College Drive, visible reminders of the university's positioning strategy unveiled almost a year ago. That strategy aims to define and build on the institution's unique characteristics with an eye to differentiating it from other universities. According to Heather Magotiaux, vice-president of university advancement and lead on the positioning project, the words on the banners capture key strengths of the U of S.

"We know that our legitimate strengths, and what differentiates us, is our collaboration and engagement," she said. "The "us" words speak to that whole notion. It's in our DNA here in Saskatchewan."

The words are also iterative, she said, pointing to Discover US as one example of the play on U of S that is quite common on campus.

Magotiaux said a long list of possible words were tested by focus groups and in surveys of various stakeholders. The six being launched on the banners, including adventurous, studious and ingenious, resonated strongly but the "us" word campaign could potentially include others. "This approach gives us a little more flexibility," she explained. "The words can be tailored for different purposes and to meet people's needs."

Using multiple words in the positioning campaign is a unique approach but Magotiaux knows there are many "us" words that could be used to poke fun at the campaign. "Parody is one of the inevitable facts of life," she said smiling, "and we'll have a sense of humour about this."

She stressed that the "us" campaign is not a new tagline for the U of S. "It would be wonderful if we could find a really pithy statement that helps people get who we are right away" but efforts to find one have so far failed. She described most university taglines as flat, uninspired and not sufficiently captivating or compelling, "and we're not going to settle." The search for a tagline will continue but the inspiration may well come from an unexpected source – "a speech, a comment somebody makes but we'll know it when we hear it."

While the banners are new, many university materials, including this newspaper, are already incorporating visual representations of the positioning strategy, namely the series of small green blocks. Magotiaux said that design element is illustrative of the agricultural patchwork of the province, which speaks to a sense of place for the university. "You'll also see that each block is a little bit different, each block is a little bit unique but together they create a whole which speaks to individuality we all bring to the university."

The university's use of photography has also changed as a result of the positioning project. There is a preference now for horizontal images, "views that are representative of the prairie horizon, of our vision for the future and the vision of our founders. They're showing the drivers of impact, connection and support, and I'm seeing the position of the university reflected more and more in photography."

Work on other aspects of the position strategy is also continuing, mainly in the development of marketing plans for four audiences – prospective undergraduate and graduate students, top faculty and key funders. "The university only has so many resources to promote itself so our strategy is to focus on those we want to be engaged with us. We're already expending resources but we want to make sure we're putting them in the right place and we want to make sure we're doing that in a context that strengthens the university's position."

Magotiaux said the work is being undertaken in collaboration with many units on campus and she expects the marketing plans will be in place as the university moves forward with its third integrated plan.