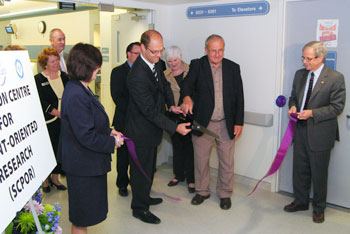 SCPOR is an initiative of the University of Saskatchewan, the Saskatoon Health Region and the Saskatchewan Cancer Agency devoted to clinical research. Such research includes clinical trials of new drugs, treatment protocols and medical technologies, as well as innovative ways of providing patient-oriented care. Participation is voluntary and subject to rigorous ethical review.

"This is the first time that patient care space is being dedicated to hands-on, patient-centred research. It's a big step for the health region and for our province," said Beth Horsburgh, who holds a dual position of Associate Vice-President Research – Health with the U of S and Vice-President Research & Innovation with the Saskatoon Health Region.

"The research done at the Centre will help both our patients and many others who will eventually benefit from new drugs and other treatments. We are very pleased that residents of Saskatchewan may have access to leading edge treatments in an environment that ensures the safety of their care" said Maura Davies, President and CEO of the Saskatoon Health Region. "Our focus is providing the best care we can for our patients and this is another way we can do that."

Patients participating in clinical research have access to the latest advances in pharmaceutical and medical technology. Since the research requires more data than standard care, a patient can expect to see their doctor often and have access to more advanced services such as medical imaging and genetic testing. Finally, clinical research is typically led by leading experts in a particular field of medicine; patients receive the benefit of their knowledge and skill.

"The centre will provide our oncologists and researchers with the opportunity to participate in broad patient research initiatives," said Scott Livingstone, CEO of the Saskatchewan Cancer Agency. "It also opens up prospects in clinical trials that can make a significant difference in the lives of patients and their families."

While all three member agencies participate in clinical research to some extent, SCPOR will expand and augment these capabilities. The U of S College of Medicine is providing resources for a medical director, research nurses, administrative support and equipment. The Saskatoon Health Region is providing space at Saskatoon City Hospital, with physician coverage and emergency backup. The Saskatchewan Cancer Agency is providing help with staff education and credentialing, as well as study auditing.

Until now, Saskatchewan was the only province in Western Canada without a hospital-based patient-oriented research institute or dedicated clinical trials facility. This was a considerable disadvantage, since clinical research must be carried out in hospital space where patients receive treatment under highly controlled conditions and where physician supervision and emergency response is readily available.

With SCPOR, Saskatchewan can participate fully in patient-oriented research, pursuing opportunities to benefit patients and provide advanced training for medical researchers and health professionals.

The SCPOR launch coincides with International Clinical Trials Week, which pays tribute to those who have participated in or are involved with the delivery of clinical trials. It also is aimed at presenting people with the opportunity to consider a clinical trial as a treatment option.