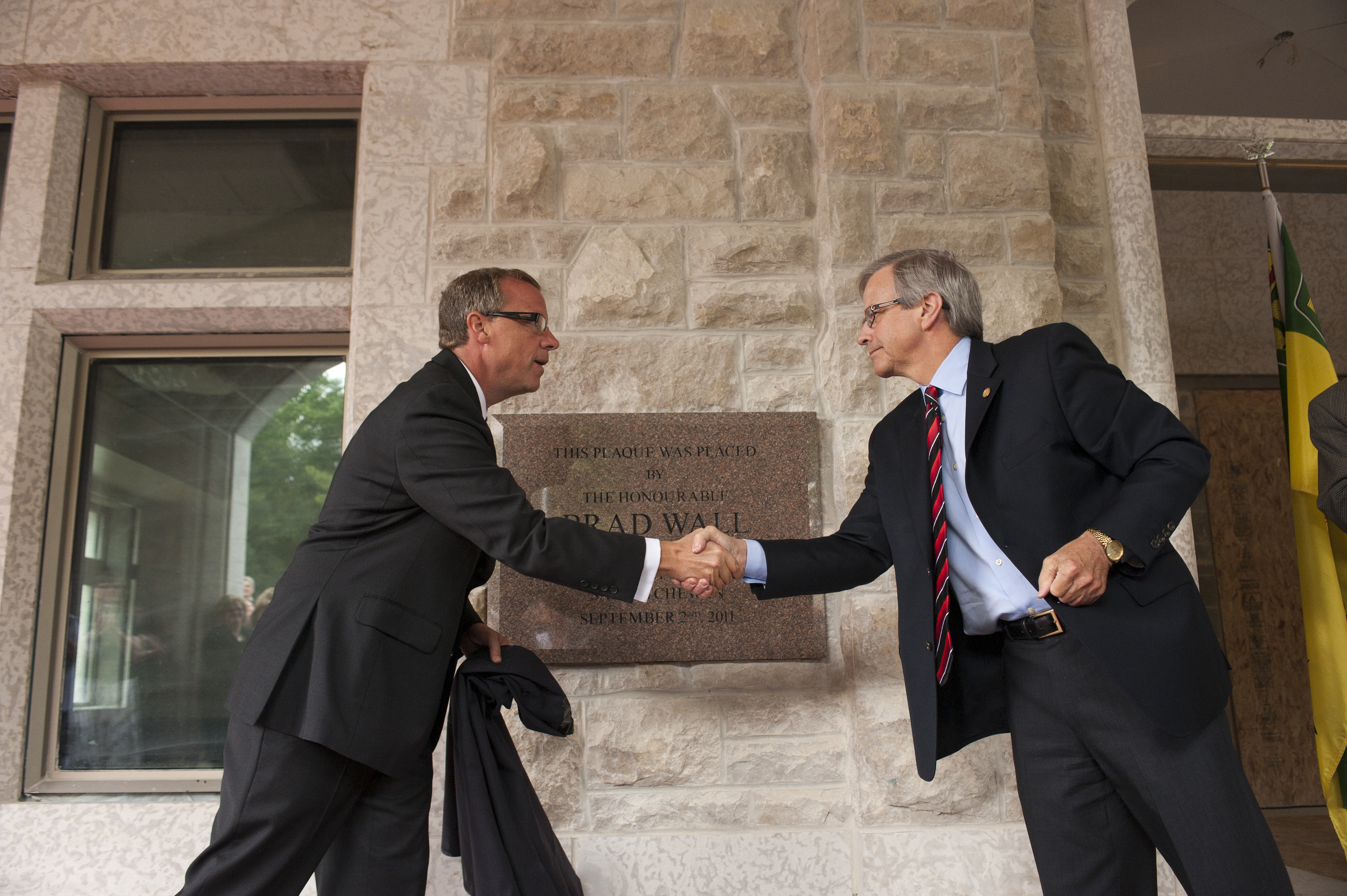 The unveiling was held in the D-wing entranceway, which is still under construction, and included remarks by MacKinnon, Wall, and David Hill, chair of the university's Council of Health Science Deans (CHSD).
The Health Sciences project will change the way education and research programs are delivered at the U of S, where students, faculty, researchers and staff across health disciplines will teach, learn and conduct research together in an integrated setting. Together, they will examine health issues from every angle to best meet the needs of people in Saskatchewan and beyond. The project will also provide expanded learning resources for healthcare instructors, clinical supervisors and practitioners across the province.
"The pursuit of this project would not have been possible without the outstanding investment and continued support of the province," said MacKinnon. "This initiative will put us at the forefront among post-secondary institutions in terms of taking a truly collaborative or team approach to how we train health-care professionals in Saskatchewan and how we conduct important and potentially life-changing research. And although construction of this monumental project will continue for some time, it is exciting to see the substantial progress that has already been made."
"Our government recognizes the value of investing in Saskatchewan's post‑secondary education to support Saskatchewan's strong and steady economy," Premier Brad Wall said. "The Health Sciences project will help to attract the most talented medical personnel, educators and researchers, which will provide better training for health professionals and increase the quality of care so people across our province can experience the Saskatchewan Advantage first-hand."
Premier Wall was joined at the plaque unveiling by The Honourable Rob Norris, Minister of Advanced Education, Employment and Immigration and The Honourable Don McMorris, Minister of Health.
The CHSD provides leadership and strategic direction at the U of S to enhance interprofessional education, practice and research across the health sciences, which includes the Colleges of Dentistry, Kinesiology, Medicine (together with the School of Physical Therapy), Nursing, Pharmacy and Nutrition, and Veterinary Medicine as well as the School of Public Health.
The Government of Saskatchewan's commitment – more than $300 million today – is the largest ever made to a capital project in U of S history. The project involves construction of two additions and extensive renovations to the existing Health Sciences Building. Various components will open as they are completed, with the final components expected to be complete in 2015-16.
For more details on the Health Sciences project, visit
http://healthsciences.usask.ca/