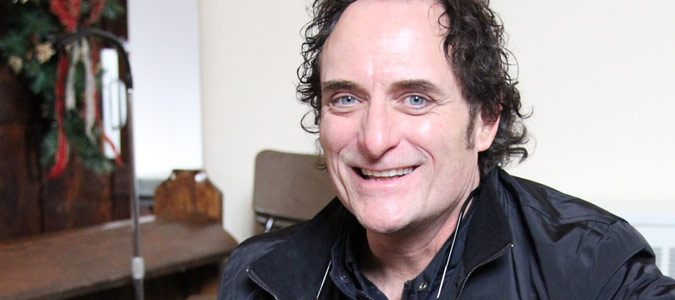 Except, bikers don't really fit into your typical fairy tale.
Kim Coates (BA'81) recently finished filming the fourth season of the hit FX series
Sons of Anarchy
(SOA), on which he plays Tig, a member of the biker gang the show is named after. Now he is back home in Saskatoon filming a movie,
Ferocious.
"I come home as much as I can. My mom just loves it when I come home, and I love being home actually shooting a movie here. It's fantastic!" says Coates during an on-location interview.
Coates is an interesting mix of Hollywood and Saskatchewan—and he seems to naturally bridge the gap between the two cultures. He is as comfortable talking about The Bowl, the Hangar Building and Greystone Theatre as he is talking about working with the likes of Kevin Costner, Andy Garcia or Eva Longoria. He is obviously influenced by southern California, but it's equally obvious that he has not forgotten his roots.
With over 50 films to his credit and appearances on several television series like
CSI
,
Entourage
and
Prison Break
, Coates is becoming a household name thanks in large part to SOA. "I certainly am getting recognized now. This whole foray into television has been great for me. I think cable is really where it's at now—it's more real, more gritty, and I think our show is like no other. I'm really happy on that show, and it allows me to come (to Saskatoon) and do movies in my off time."
He jets off to do a celebrity bike show one weekend, then guest stars at
Saskatoon Soaps
the next (planned for December 9). There's that Saskatchewan meets Hollywood again.
Family keeps Coates grounded too. Not only is he obviously pleased to come home to see his mom (his father passed away three years ago), he beams with pride when talking about his two daughters. Kyla graduated from UCLA summa cum laude—the highest academic honour. "She is just a brilliant brainiac, and she is well on her way to doing some amazing things in the world. She really will make a big difference." Brenna, the younger of the two, is following in her father's footsteps. She is studying at NYU's prestigious Tisch School of the Arts. "She has way more talent than me at that age. She got offers from other colleges, but she always wanted to be in New York where her dad was."
And what do his daughters think of his SOA biker persona? "Good bad-ass. They can't believe their dad's on that show." Kyla would gather with about 70 UCLA students every week. "No matter what they were doing, they would stop everything for 'Sons night.'" And Brenna "was too little to watch my stuff." But now that she is older she "watches her pop and wants to be an actor like me."
Coates calls
Ferocious
"a dark little film" and is hopeful it will be a "film favourite, a festival darling." This is the second time Coates is working with fellow U of S alumnus Anand Ramayya (BComm'98), founder of Karma Films, a Saskatoon-based, award winning production studio. After joking that he "can't stand him," Coates, in typical prairie fashion, sings Ramayya's praises, "Every time Anand calls me I take his call right away. I love him and am really proud of him being a filmmaker from Saskatoon, doing big movies right in the city."
There is no sign of things slowing down for Coates. SOA was picked-up by FX for its fifth season, he hopes to return to Saskatoon in February to film another movie, and he is branching-out into other aspects of the movie business. "The only thing I haven't done so far is direct. I love producing and I'll produce more. Directing is coming up.
Sons of Anarchy
is such a 'men-of-mayhem' show there's no way that could be my directorial debut; it's way too difficult."
Bringing things full-circle, Coates states his intention to return to the stage, "I say no to theatre all the time. I'm going to stop saying no now. I promised Brenna that I'd go back to Broadway when she was in college, so I think I'd better get back to Broadway."