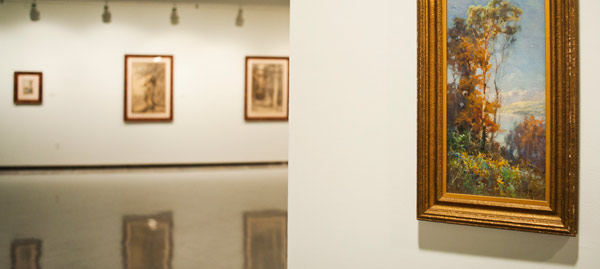 Augustus Kenderdine: Field Day
includes paintings and drawings from the U of S permanent collection that illustrate the dominant themes in Kenderdine's practice, mainly his engagement with the landscape across Saskatchewan. For Kent Archer, director of the collection and curator of the show, the works acknowledge the artist's ability to capture the essence of northern, central and southern locales.
"Kenderdine is certainly a significant artist provincially and historically," said Archer. "He's also important as the first lecturer and studio artist at the University of Saskatchewan. In the public's eyes, that created some excitement about his work going out to smaller centres across the province."
Many of the pieces in the exhibition have been touring the province since December 2008. Facilitated by the Organization of Saskatchewan Arts Councils (OSAC), the tour made stops in 14 communities. "We try to tour exhibitions through OSAC fairly regularly," said Archer, sharing the wealth of the university's extensive art collection with those who do not have regular access to its significant works. And now that the tour is over, the campus community and visitors have the opportunity to view the works in their home gallery.
Born in Manchester, England in 1870, Kenderdine arrived in Canada in 1908 to homestead near Lashburn. In the early 1920s, Walter Murray, first president of the U of S, saw some of Kenderdine's work and was so impressed he offered him studio space on campus. Kenderdine spent winters in Saskatoon teaching and painting, and spent the summer months traveling across the province to draw and paint.
He built a cabin for himself at Emma Lake in the late 1920s with the dream of creating a summer art camp. In 1936, he persuaded the U of S to support his idea, opening the door to the establishment of the Kenderine Campus, which has become legendary in the history of Canadian art for the impressive roster of internationally renowned artists who have, and continue to, take advantage of its idyllic setting.
In 1937, Kenderdine moved to Regina to help set up the art department at Regina College, now the University of Regina. He lived there until his death in 1947.
Augustus Kenderdine: Field Day
can be seen in the Kenderdine Gallery, second floor, Agriculture Building, until Sept. 9. Gallery hours are 11:30 am-4 pm Tuesday to Friday.