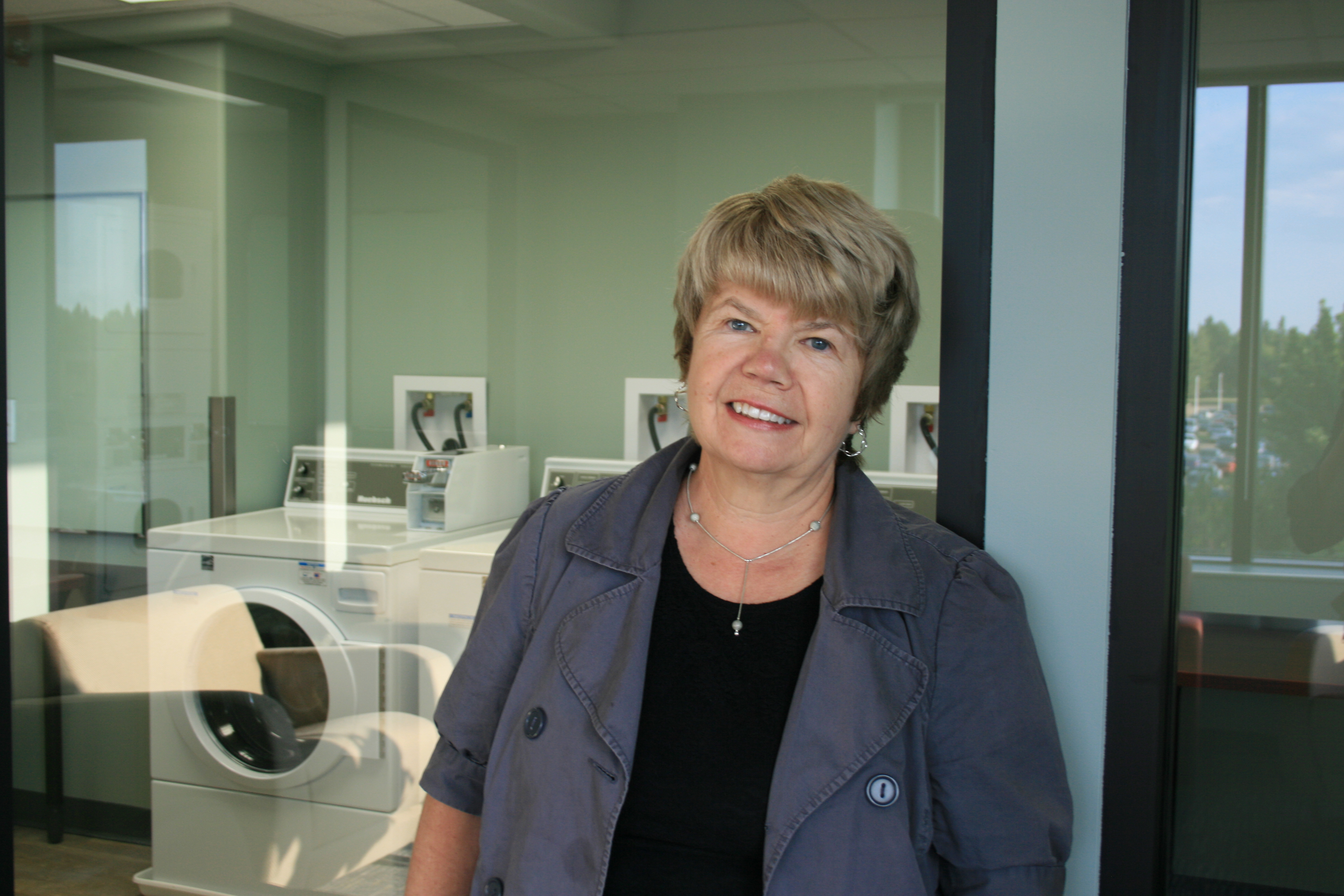 For Ward, the acting assistant provost for teaching and learning, moving into Spruce Hall provided both the solution to her homeless-in-Saskatoon conundrum and the opportunity to engage with the students who are so much a part of her career. "For me, teaching is actually about relationships," she said, "and when you're living in residence, you're seeing the students as whole people."

The homeless situation arose when Ward and her husband decided to retire to Vancouver Island. They sold their house, packed up their belongings and spent the summer settling in on the coast. In the meantime, she was offered and accepted an extension of her term as acting assistant provost through the fall term leaving her without a place to call home. At the same, the call went out for a faculty member to live in the new residence so Ward spent some time talking to other faculty members who had experienced residence life, and decided to volunteer.

But it won't be a totally new experience for Ward. She explained that she attended fully residential women's college at the University of London where students and faculty learned and lived together. "It was meant to be a community of scholars," she recalled, "where we focused on thinking, writing and our shared interests. I remember the conversations were very casual but for me to be in that community of scholars was actually a very transformative event."

Later in her career, when she decided to do her teacher education in British Columbia, Ward was required to be at Simon Fraser University for one term and she chose to leave husband and children behind and live in residence. She also spent a year in residence at the University of Victoria while she completed her PhD.

"I think at that time it was really important to me to be an interested adult. You're there for the academic work but I was also very interested in the students as people. I also think it helps when you're making decisions about the students to know who they are."

Ward knows it takes a particular kind of person to fulfil the role of faculty in residence – "somebody who is interested in young people, who is flexible and who doesn't mind a bit of noise. If you're a very private person, it would not be your idea of a perfect situation because you have to live a bit more in public."

As for the age difference, Ward does not believe a faculty in residence is required to know the names of all the hottest singing sensations, live with a smart phone in hand or sport the latest in college fashion. "You can be a good friend to young people, a friendly adult, without being part of the culture." Ward brought with her to Spruce Hall her electronic piano but she also brought headphones so as not to bother anyone with Mozart and Beethoven.

On the practical side, Ward was on hand to greet her residence mates as they moved in Aug. 31 and will make herself available during set hours every week. She is actively involved in planning some academic activities like tutoring "and I thought it might be fun to find cooking partners for those students living on their own  for the first time." She also has plans to start a laundry discussion group in the seating area near the washers and dryers.

Ward has high praise for the residence life programming that goes on throughout the year. She sees part of her role as a conduit to all faculty "about who our students are and to make visible all the work the people who are residence staff do. As we become increasingly diverse as a university, which we will, we're going to need to have good supports for all students, and residence is a good, efficient vehicle for providing those supports. To do that really fulfills our visions as a university."

Asked if she has any worries about life in residence, Ward said she wants, more than anything, to be useful. "I want to make a contribution. I just hope people will talk to me."