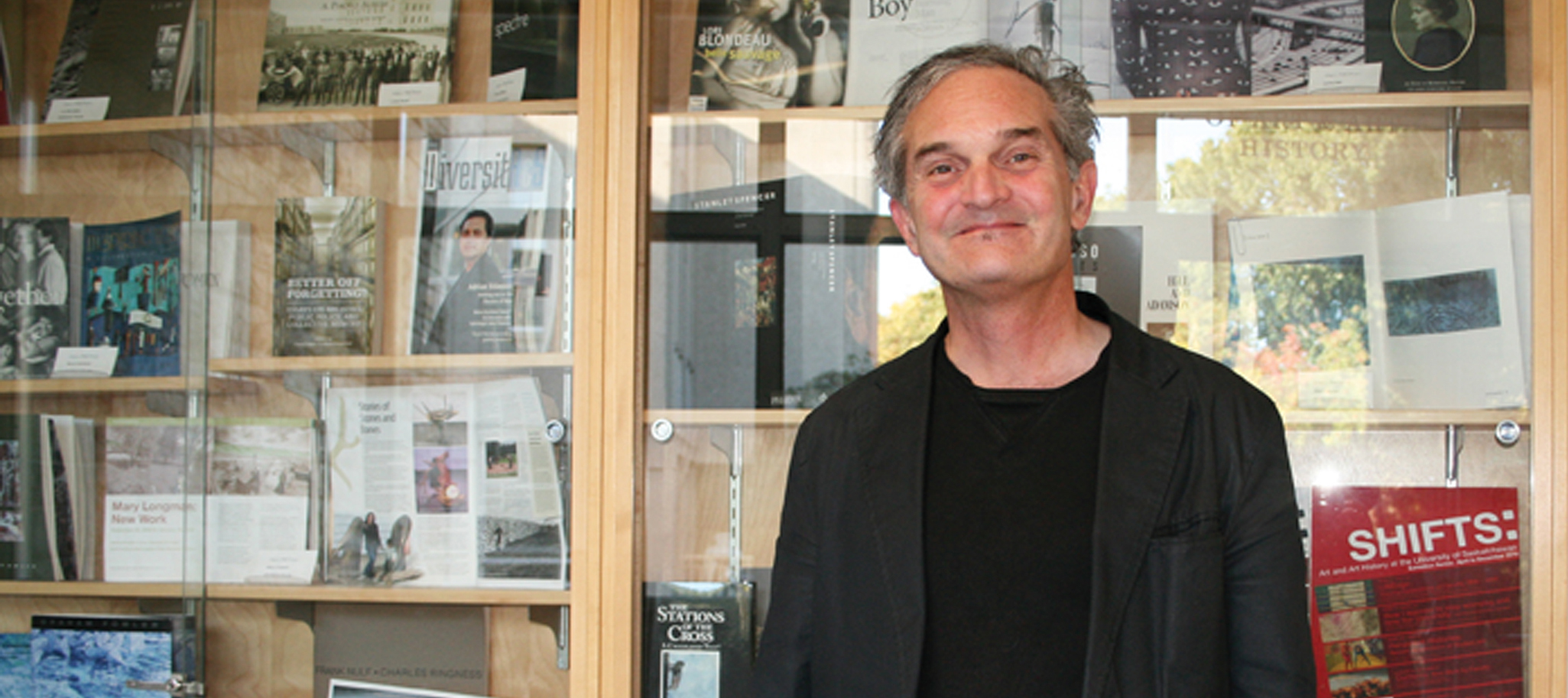 He is excited about being around young people who are involved in a serious art program. On his new position, Miller says, "I am interested in being close to the latest things that are happening and the idea of being part of a university is very appealing to me."
The Department of Art and Art History has expanded the job to include a teaching component, so Miller will be developing a new special topics class for next semester. "I've got lots of ideas but nothing is in the calendar yet. I want it to make sense with my role as a director of the gallery so it will have a curatorial and museum studies focus, but I need to consult with faculty to see what they think I can bring to the department and what is needed."
That the Snelgrove has been very much a DIY gallery makes sense, says Miller, as it is important for art students to know how do everything from installing and lighting a show to making their own posters and announcements. He would like to see students provide more information about their work, information that would be used to educate gallery patrons and for media purposes. He also hopes to be a bridge to other departments, and looks forward to initiating some collaborative projects and interdisciplinary exhibitions.
"Why aren't we doing things with the music and drama departments and city planning? I would love to get our students together. It would make the opening receptions more interesting and set the stage for more interesting programming."
Originally from Montreal, Miller moved west in 2006 to take a job as assistant curator at the Art Gallery of Alberta, Edmonton, curating exhibitions of local artists and special exhibitions.
For his exhibition,
The New Flaneurs
, Miller juxtaposed 18th century paintings of ruins and waste heaps with contemporary art practices such as geocaching, graffiti art, parkour and skate-boarding, even allowing the art to spill out of the gallery and onto city streets.
Moving to North Battleford might not seem like an obvious choice to many up and coming curators, but Miller was intrigued by the job posting at the Allan Sapp Gallery. "It asked if you had any experience with elders. I didn't, but knew that this would be a curatorial job like nothing else I had ever had and that consultation with the local indigenous community would be a big part of what this gallery would be about."
Contemporary Aboriginal art is one of Canada's hottest exports right now, according to Miller.
"These young artists are standing on the shoulders of a previous generation that set a very important precedent in the 1960s and 1970s as the first generation to exhibit their work in art galleries as capital 'A' art. The younger generation, artists like Adrian Stimson who is teaching here, have gone to art school and are interested in hanging onto their heritage and in how can they pull all of this stuff together. They are inventing something new. It's fantastic, and it's happening right now."
Originally published in the fall 2011 issue of
arts&science
magazine