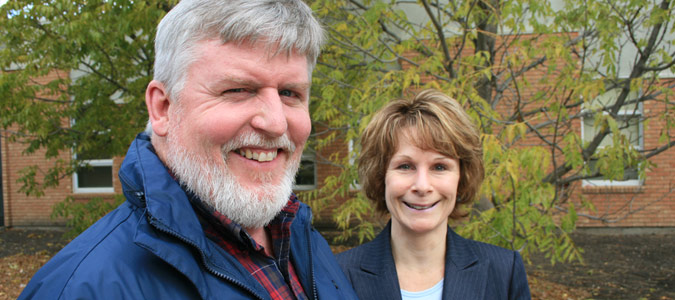 Aitken, professor of geography, said he figured the majority of work would centre on operations—carbon footprint kinds of issues—but just eight months in, it had already expanded to include education, research, governance and community engagement as well as operations. "We could have just dealt with the visible, tangible things you can talk about in the news but the challenge was to create a cultural transformation on campus," to move from being a campus featuring sustainability to a campus infused with sustainability.

In a joint interview to discuss the progress of the sustainability commitment over the past almost four years, Aitken and co-leader Julia Jones, director of finance and administration in the Facilities Management Division (FMD), said the scope of the commitment grew from the conversations and efforts of a working group of about a dozen people. Their first task, said Jones, was to define sustainability and set out a vision for the commitment. They used that, and their original mandate, "to give us the authority to say this is why we're going into this territory of all areas of campus life,"
she said.

With the end goal of producing a sustainability plan for the U of S, sub-committees were set up for each of the five areas to be addressed—education, research, operations, governance and engagement. The aim was to assess sustainability initiatives and bring recommendations to the final plan. That work "was about saying here's what we're doing and here's what we know we're not doing," said Aitken. "It's about identifying gaps and enhancing where we're already making progress."

While the work of the commitment has changed a great deal since it was set up in 2008, Jones said the focus on an overarching sustainability plan has been unwavering. Today, various sections of the plan have been complied in draft form "and we're confident it will be completed by April 30, 2012," the end of the planning cycle. "That's when we all lose our jobs," joked Aitken, "not our day jobs, this commitment job."

While a sustainability plan is the ultimate deliverable, there have been other tangible initiatives along the way. One is the adoption of the Sustainability Tracking Assessment and Rating System (STARS) as a self-reporting framework for colleges and universities to measure sustainability performance. A tool of the Association for the Advancement of Sustainability in Higher Education, "STARS is a way to measure our own performance and our performance against others."

The university's first submission of STARS data, made in mid-October, resulted in a bronze rating, providing what Jones described as clear targets for future integrated plans—silver by the end of the third plan and gold by the end of the fourth. Getting there "will be an enormous transformation in the culture of this campus," added Aitken.

Jones also noted "an action-packed recommendation" that will be in the education section of the sustainability plan. It calls for the establishment of a taskforce on sustainability in education that will explore "whether we should have a sustainability 101 course, or an interdisciplinary major in sustainability, or what the role of the School of Environment and Sustainability should be in undergraduate programming."

Aitken and Jones strongly believe there are enormous benefits to sustainability education for students. "We're not expecting them to tie themselves to trees," Aitken said, "but we want them to be exposed to the concepts, some of the ideas about sustainability in a way you wouldn't have been a decade before."

"It's about teaching them to be better citizens," added Jones. "It's about teaching all of us to be better citizens."

But both agreed transformation of a sustainability minded campus will, on the whole, be subtle and incremental. Jones used safety as an analogy—people used to drive without seatbelts "but now we can't even imagine we used to do those kinds of things." Just like safety, Jones and Aitken believe sustainability will eventually be embedded in everything the university does.

"The campus community will choose its heroes," said Aitken, "but a lot of this stuff isn't going to get that kind of press. It'll be a much more gradual and largely personal kind of transformation."

On a personal note, both co-leaders readily admit the work on the commitment has been challenging and time-consuming. "The work itself is very rewarding," said Jones. "I've never co-lead anything this big and I've never been involved in anything this important but now I need a break. I'm looking forward to having more time to do the things I'm supposed to do outside of work, things for myself. And I need to have the time to do a better job of my day job."

Aitken has his sights set on an upcoming sabbatical "so I know what I'm doing when this is all over" but he noted that leading a commitment has greatly broadened his personal experience on campus. "I've had the opportunity to meet a circle of people I wouldn't have met otherwise—students with the USSU, people here in FMD, people in the health sciences. I've also had a direct line into our decision makers and I never expected to have that kind of pipeline during my career."