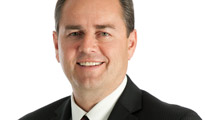 "You never know what happens," said Gitzel in a recent interview. "I guess you just try and do the best job you can in whatever position you can, ever day. That's all I've ever done and what I continue to do today. That it worked out that way is just really great, but my philosophy has always been one of continual improvement."

Gitzel assumed his new CEO position July 1 after Gerry Grandey retired, but he first became involved in the uranium industry as a teenager. Gitzel said his father joined the uranium industry in the very early days, working for Cogema, which later became Areva. Gitzel himself started as a summer student at Cluff Lake in 1979 when the company was just building the mill at the time.

"I guess it was once I got there that it started to interest me," he said. "To see some of the people who worked there and learn about the industry, that's really when my appetite came for the business." Then he noticed there were international companies coming to the province and "I guess it just seemed, for someone from Saskatchewan, like a good career to look at."

But full-time work in the uranium industry had to wait while Gitzel studied French and political science at the U of S. From there, he did a year of French immersion in Laval, Quebec before returning to the U of S where he graduated with a degree in law in 1990.

As a student, Gitzel worked two summers in France with Areva. After graduating from law, he worked for a local law firm before joining Areva in Saskatoon, eventually moving to the company's Paris office to head up its worldwide mining operations. He and his family moved back to Saskatoon from France in 2007 when Gitzel joined Cameco as its chief operating officer.

Looking back on his U of S experience, Gitzel described it as critical. "I spent many years of my life in the hallowed halls of the U of S. Now with Cameco, we have a very strong relationship with the university, both developing the programs and of course we look to the university for a lot of the talent that we get at our company. That's a real strong and important relationship for us."

Gitzel watched some of the best mines in the world develop in Saskatchewan and produce ore grades many times the world average. "You could see this was going to be a place where they were going to mine uranium for many years … It's a real honour to come back and be able to work for a world-leading company that's headquartered right here in Saskatoon."

In addition to it being "a great city and province to raise a family," the other draw for Gitzel and his family to return in 2007 was friends and family located in the city. "Plus my rec hockey team was here as well, so that played heavily into the decision," he joked.

The new Cameco CEO says he and the company have ambitious goals, most notably to double uranium production from 20 million pounds annually to 40 million by 2018. He says the aggressive strategy will require a lot of work not just in Canada but also in Kazakhstan, the United States and Australia.