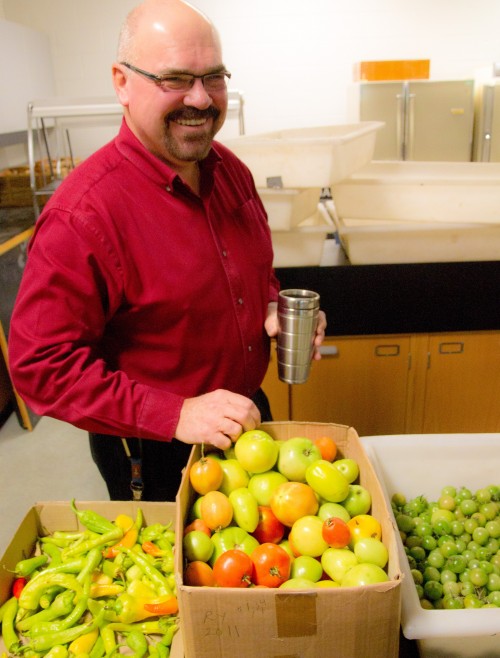 Wood, assistant professor in the Department of Plant Sciences in the College of Agriculture and Bioresources, has been working at the U of S for 27 years and his passion for growing food is infectious. With a rigorous teaching agenda and the role of faculty advisor to the U of S Horticulture Club, Wood is always on the go. But before running to the Open Door Society to teach new Canadians about cooking with gourds, Wood found time to talk to
On Campus News
about one of the newest classes on campus, Urban Food Production (Plant Sciences 235).
"The most important part of this class is the social aspect," said Wood. "Yes, of course the class teaches students about food production, but I want to teach them about building a community around food."
Last year, 25 students enrolled in the class and 40 are taking it this semester. Wood thinks the class will continue to grow as students take more of an interest in becoming urban "farmers."
"Are you a farmer? You have a garden and you live in the city, but can you make a living growing urban vegetables and fruit?"
Wood answers these questions in his class and talks about different ways his students could pursue careers in urban food production. He also teaches them about the nutritional and environmental benefits of keeping the production close to home.
"Packaging, transportation costs, pesticides … these are the things we think about in this class. Hopefully some of the students will think about the potential for urban agriculture as a small business."
Wood added students come from a number of different colleges to take the class, which covers a lot of ground, including nutrition, basic soil science, planning, production and harvesting. The final project involves a plan to transform an urban setting into a community or market garden. Wood said he really wants his students to design gardens that fit into the landscape of the city.
"There are so many things to think about when you are planning a garden, such as the older areas of Saskatoon where large old trees can completely shade the ground … but I have a million ideas for how this class could evolve: rooftop gardens, urban bee hives, urban chicken coops, urban livestock, fruit trees. All of these ideas require a community of people to make them work and that's why it is the social aspect of urban food production that is the most important.
"Food is everything."