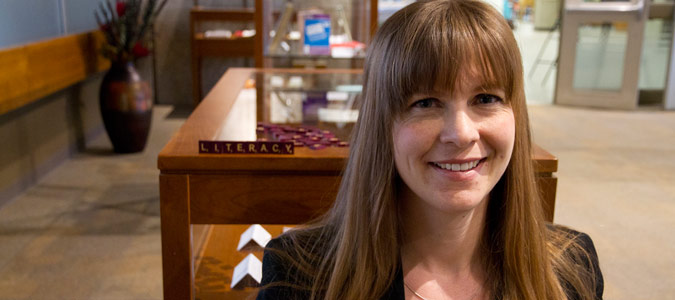 To that end, she is helping to organize a speed Scrabble tournament for literacy that will take place March 7 at the University Library's Learning Commons. "It started out as a small event to give writing help peer mentors and tutors the chance to do some service around literacy," said Marken, writing help co-ordinator at the centre.

"It is a small step to raise awareness and money about a serious issue in Saskatoon. The university can help with this by asking questions, reaching out and learning about what the issues are. This event is not only about raising funds, but it's also about helping to educate people on campus and in the community about something that ultimately affects all citizens."

Organized by the U of S Students' Union and the University Learning Commons, the tournament reached full capacity (12 teams of four players) within a couple of weeks of being announced, said Marken. Leading up to the tournament, participating teams—including teams made up of senior administrators, city councillors and students—are gathering pledges and donations with a goal of collectively raising $10,000. All proceeds are going to literacy programs at READ Saskatoon, the Central Urban Métis Federation and the Saskatchewan Intercultural Association.

"The cause is serious, but the game itself doesn't need to be. It is meant to be fun, but as everyone knows, Scrabble can get very competitive. Some teams are taking it seriously, memorizing two-letter words," said Marken.

Although the sometimes vicious nature of Scrabble may still be intact, the format of the game for this tournament is quite different. "There are no points and no boards. The winning team will be the one that creates their Scrabble grid using a full set of tiles the quickest. There will be three rounds of play before a winning team is announced. We will also have referees from the Saskatoon Scrabble Association around to make sure the words used in the grids are acceptable Scrabble words."

Jason Hlady, an analyst in Information Technology Services and the top-ranked Scrabble player in Saskatchewan, helped develop the rules and format for the tournament, Marken said. "A lot of people have been involved and have helped get the word out."

While this year's tournament is already full, Marken suggested coming out and watching the competition, making a donation and volunteering or registering for next year's event. "I think we will definitely do this again next year but it may outgrow the space we're using this year. Literacy is a fundamental component of a healthy society, arguably a basic human right, and so should be a priority in our community.