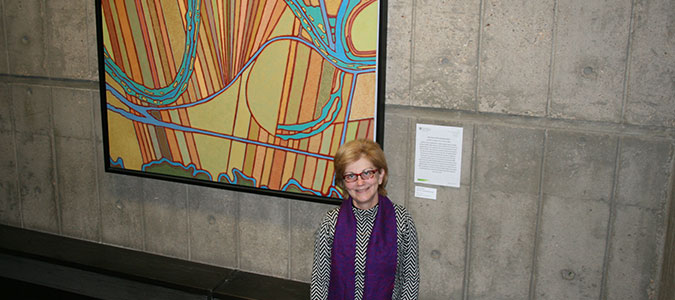 The artwork—two untitled pieces by Kevin Pee-Ace, a member of the Yellowquill First Nation, and two by Métis artist David Garneau entitled
Red River 1870s (beaded map)
 and
Centering (Buffalo Skull)
— were officially unveiled Nov. 28 at an event in the library that included fiddling and an artist's talk by Garneau. Library Dean Vicki Williamson said the purchases, made with undesignated donor funds, "were a long time in the making" but are an important part of the initiative to convey the sense of "a safe and welcoming space where people can grow their knowledge."
Williamson, who is from Australia "where there are many similarities in our relationship to Indigenous people," personally selected the Garneau works first. Then, during a visit to Wanuskewin, she saw Pee-Ace's work. "They called me over and said, 'I would look wonderful on the main floor of the Murray Library.' It was like the stars were aligned."
The library has made a deliberate effort this past year to recognize Aboriginal culture and contributions, and to ensure its space is welcoming, motivated in part by the visit to Saskatoon in June by the Truth and Reconciliation Commission of Canada (TRC). In addition to continuing to develop its Indigenous Studies Portal, the library mounted a major exhibition in the spring entitled Knowledge Keepers: Authorship, Artistry, Archives which includes published and unpublished First Nation, Métis and Inuit related materials.
"We did the physical exhibition ahead of the TRC visit," said Williamson, "but we kept it up deliberately so when our new students and faculty joined us in the fall it would be there. And the online component of the exhibition will live on in perpetuity."
Other University Library initiatives include establishing an access point at the university's Office of First Nation and Métis Engagement at English River and ensuring staff, including the dean, receives treaty education. Williamson said initial work has also begun on an Aboriginal employment strategy that will "demystify library service as a profession and highlight the benefits of a library service career."
For Williamson, all of these initiatives are steps on the path toward "creating an environment of reflection and thought where people can think about the reconciliation movement, about relationships of the past and new perspectives moving forward. This is about understanding and success for all of us in Saskatchewan. And art is often helpful for starting those conversations."