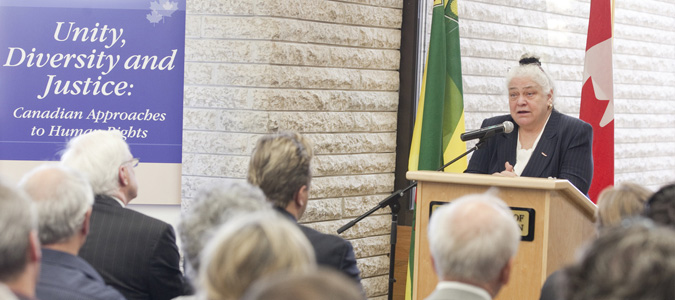 "The exhibit is a gesture towards Mr. Diefenbaker, a truly unique Canadian," said Michael Atkinson, executive director of the DCC. "On behalf of all of us at the Diefenbaker Canada Centre, the doors are open. Welcome."
The newly renovated gallery features three in-house produced exhibits that address the Right Honourable John G. Diefenbaker's contributions in the area of human rights: The Diefenbaker Legacy; The Canadian Bill of Rights; and Unity, Diversity and Justice: Canadian Approaches to Human Rights. The exhibits weave personal and national stories that encourage visitors to explore the way human rights and civil liberties have come to be protected in Canada and how we as Canadians approach these topics.
"When he enacted the Canadian Bill of Rights, Mr. Diefenbaker was acknowledging that we have fundamental human rights as well as responsibilities, and that governments should respect those rights," said Mary Eberts, Ariel Sallows Chair in Human Rights and U of S professor of law. "This was a bold decision, ahead of the rest of the Commonwealth and indeed much of the rest of the world. His encouragement to the fledgling culture of rights then growing up in Canada led the way to the Canadian Charter of Rights and Freedoms"
Prime Minister Stephen Harper visited the DCC on the U of S campus in September 2010 to mark the 50th anniversary of Canada's Bill of Rights. The outcome of the occasion was a $1.33 million investment to rejuvenate the Diefenbaker Building. At the event, Harper described the former prime minister and U of S graduate John D. Diefenbaker as a man of dignity and passion as well as "a Canadian patriot to his core."
Admission to the gallery is by donation and hours are as follows:
Monday, Tuesday, Wednesday and Friday - 9:30 am to 4:30 pm
Thursday - 9:30 am to 8 pm
Weekends and holidays - noon to 4:30 pm
For more information, please visit
www.usask.ca/diefenbaker