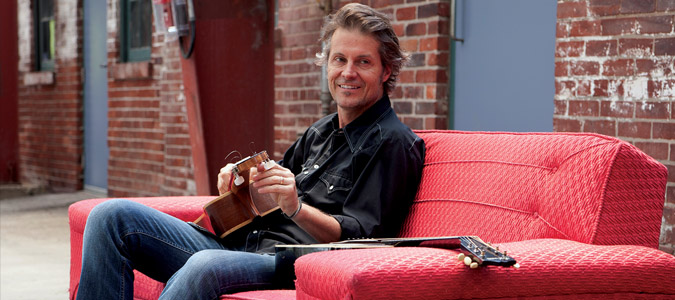 Jim Cuddy—who rose to fame as lead singer of Blue Rodeo and has also launched a successful solo career—will be coming to campus Oct. 18 as the keynote speaker for the Gail Appel Lectureship in Literature and Fine Arts.
This year marks a decade since the lecture fund was established, and Cuddy is the latest arts and cultural icon to visit campus as a result of the lectureship. Previous speakers have included Buffy Sainte Marie, Alan Lightman and Sir Ken Robinson.
Gail Appel, who graduated with a Bachelor of Arts degree in 1966, established the lectureship along with her husband, Mark, in 2002. As a young College of Arts and Science student juggling work with academics and living away from home for the first time, Appel said she would often refer to a letter written by her father in which he urged her to follow her passions.
Through this lecture series, Gail says she hopes to inspire current students in much the same way her father's words motivated her.
"I want to encourage students. If it's your passion, just keep doing it," she said.
Cuddy's lecture, titled Canadian Music: The Dawning of Independence, will take place at 7 p.m. in Convocation Hall. The event is free although seating is limited.
"As part of Blue Rodeo, Jim Cuddy was recently inducted into the Canadian Music Hall of Fame," said Peter Stoicheff, dean of the College of Arts and Science. "He has a great artistic career to reflect back upon in the lecture, and it will be wonderful to hear him do that.
"A graduate of this college and an artist herself, Gail Appel has permitted us to bring in world-class talent for the university community and public to hear. This has been an extraordinary gift from her to all of us."
While many local music fans have likely seen Cuddy and Blue Rodeo perform in Saskatoon, few get to hear artists speak at length about their careers and how they achieved success. Sabrina Kehoe, associate director of the Interdisciplinary Centre for Culture and Creativity, says this is what makes the lecture series unique and consistently fills Convocation Hall to capacity.
"We seldom get an opportunity to hear the ideas and perspectives of internationally-renowned thinkers, creators and artists, and we rarely have the opportunity to engage meaningfully with them. This lecture offers both experiences."
Kirk Sibbald is a communications officer in the College of Arts and Science