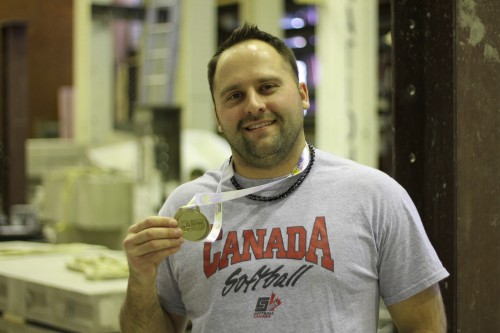 In September, Pokoyoway, with 15 of his Canadian teammates, travelled to Medellin, Colombia for the Pan Am Championships and after 12 grueling games, brought home gold from what may be one of the world's most violent cities because of drug cartel wars.

"We had police escorts the entire time, everywhere we went. They followed us from the airport to the hotel to the complex where we played," said Pokoyoway, an electronic systems engineering technologist in the Department of Civil and Geological Engineering. "We weren't in danger, but we also didn't get out too much."

But when the team did get out, it was to the fields where they took on nine other teams and ended up beating Venezuela in the finals by a score of 4-1 in front of about 2,500 Colombian fans of which "about 95 per cent were cheering for us. We were throwing all sorts of stuff, hats, T-shirts and pins, into the stands," said Pokoyoway who plays shortstop.

"After the game, we celebrated and so did the crowd," he recalled. "It took us three hours to leave the parking lot because we were signing autographs and having pictures taken. Even the police escorts were getting our autographs. That's about as close to rock star as it gets for softball players."

The fans, he continued, were "so gracious and friendly, but it was literally a mob scene. It was definitely different than playing in North America, not at all the same atmosphere; the fans are energetic, loud and they sing."

It was Pokoyoway's first international tournament and certainly a change from what he has experienced playing for his home team, the Saskatoon Diamondbacks, but what stood out more than anything was playing for his country.

"I didn't pay attention to stats, I just did whatever the team needed. We were just focused on winning," said Pokoyoway, who, in the final game ended up being the tying run with the next batter hitting a three-run homer to make the final score 4-1.

"It was an unbelievable experience. It sounds cliché, but to put on the Canadian jersey and compete at the highest level is just special. And to win and be the best of the best, we just had real pride in our country. Nothing compares."