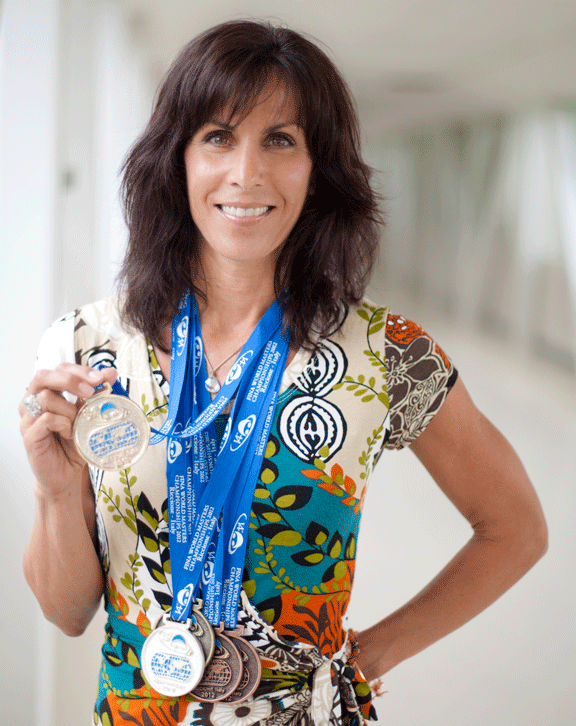 Janis Shirriff earned five medals at the 14th Federation Internationale de Natation (FINA) Masters World Swim Championships in Riccione, Italy this summer—one of them gold. Shirriff took first place in the women's 100-metre backstroke event in the 50-54 age category. Her time of 1:14:15 set a new masters championship record by a full one-and-a-half seconds, and is only six-tenths of a second off the world record.
"I glided in," said Shirriff. "I kept thinking, 'I feel so good. I feel so good.' When the race ended, I thought, 'I can keep going!'"
Shirriff also won silver in 200-metre backstroke and bronze in the 200-metre individual medley which requires swimming 50 metres each in butterfly, backstroke, breaststroke and freestyle. Earlier in the competition, Shirriff also placed fourth in the 400-metre individual medley and eighth in the 100-metre breaststroke. FINA awards medals to the top ten masters swimmers in each event.
Accomplishments like these would be welcomed by any athlete, but they taste particularly sweet to Shirriff, a training supervisor with Information and Communications Technology (ICT).
A competitive swimmer since the age of seven, Shirriff had been training with the U of S Masters Swim Club since it started in the mid-1980s. A long-time, all-round athlete, she also biked and ran 10 kilometre races. Then, two years ago, a blood clot in her leg—and then lung—almost killed her.
Determined to compete again, Shirriff fought her way back into a regular training routine, despite considerable pain that continues to this day. The clot also forced her to give up travel for the better part of a year.
The first trip approved by her doctor was to a Canadian swim meet where she saw advertising for the world championships in Italy. Shirriff remembers exactly what she thought: "What have I got to lose?"
Shirriff embarked on a training regimen that was more ambitious than ever.
By last fall, she was swimming five times a week while continuing to run three times a week. She sought out competitive-level coaching and added an intensive strength and conditioning program five days a week. The combined training program saw her working out two to three hours a day.
"I had to force myself to take a day off," said Shirriff.
The result was that she not only qualified for the world games, she landed a top five ranking in all her events.
This year's world games attracted nearly 13,000 athletes for competitions in swimming, diving, water polo, open water and synchronized swimming. In her age group alone, there were up to 120 women competing in every event.
Shirriff left most of them in her wake. Over the course of the meet, she swam the fastest times of her life—including those of her early youth—in all but one event.
Despite her gold medal win in backstroke, Shirriff still doesn't consider herself a backstroker, admitting that her technique in the final stretch could have been better. She's convinced that correcting it could have earned her the world record.
"I just missed it. So now I've got to go after that," she said with a smile.
Jennifer Webber Forrest is communications officer in Information and Communications Technology