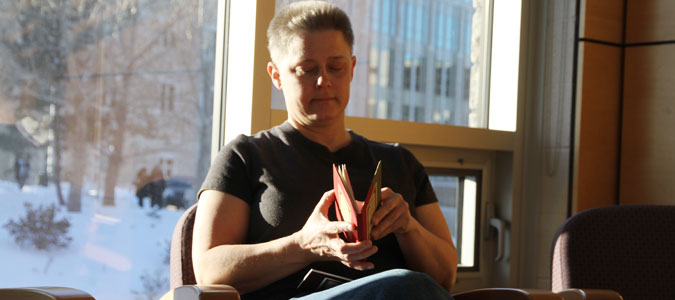 A quick look at her two careers, one as a library assistant at the U of S and the other as a publisher, writer and illustrator of children's books, should be the only clue required.
"Absolutely I love books. I love writing them, illustrating them, laying them out, binding them, repairing them. I love the whole process of making them," said Matheson, a part-time reference and circulation assistant in the Law Library since 2002.
For Matheson, "books are superior technology," compared to e-readers or iPods. "They are biodegradable; other technologies aren't. Fifty years from now you will still be able to read it, not sure you can say that (about ebooks). But I am starting to learn how to make ebooks."
Although she began writing at the early age of five—her first novella, complete with illustrations, featured her father, an Anglican minister, walking up the many stairs to his office at the church. "I also used to write stories and draw illustrations for my nieces and nephews. I would make them little books on their birthdays," explained Matheson, who studied English at the U of S.
But Matheson's publishing career did not really get started until about seven years ago, she explained, when she took up drawing again. Following that, she ran into a couple authors with whom she wanted to work. "I didn't have a publisher, so I became one."
Matheson earned income from art and writing "unofficially" for several years until her company—aemworks—became official in April 2009. "It got to the point that it was pulling enough money that the government said it had to be an official business (for tax purposes)." Since then, aemworks has published four titles; the most recent being a Christmas story entitled
Jennie's Nightie and the Christmas Concert
by Verley Robson.
Matheson, along with fellow U of S library assistant Kate Hodgson, also operates a nonprofit business called Happy Leopard Chapbooks that creates a short run of hand-made books to sell. All profits are donated to charity. They have completed seven projects with funds going to Station 20 West, New Hope Dog Rescue, SCAT and Farmers Helping Farmers. The most recent was a cookbook that raised $2,000 for the Edna Warrington Library Bursary for Student Library Assistants at the U of S.
All the chapters in Matheson's life make for busy days, but "how can I complain? I get to work with books and I get to interact with interesting people no matter where I am working."