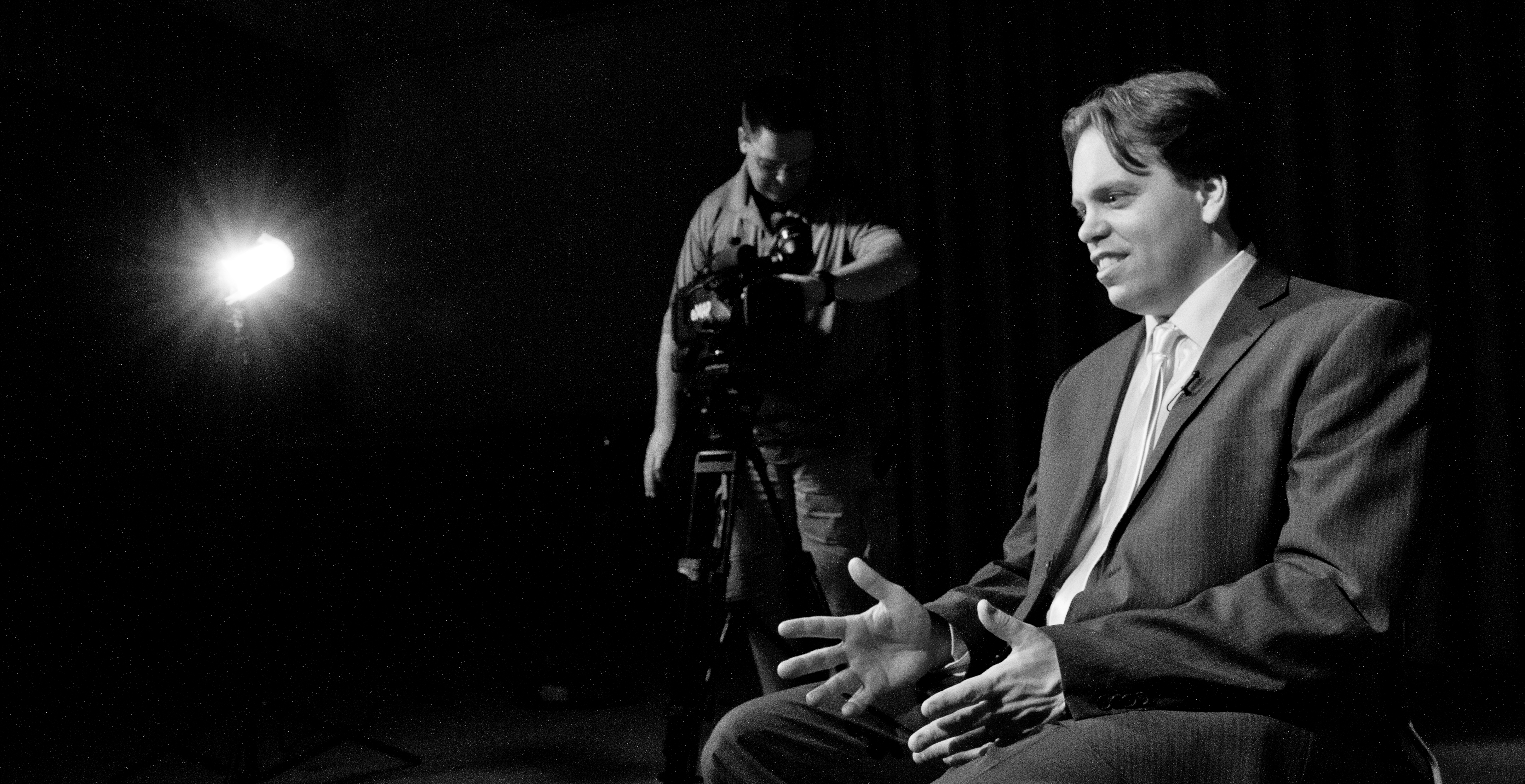 "My students love these anecdotes of current events, they enjoy knowing what is happening," said McGrane. "Talking to my students about interviews can be used effectively … but I don't like the cameras in my class—it is unfair to the students."

McGrane, an assistant professor of political studies in the College of Arts and Science and St. Thomas More College, is one of the busiest faculty members the University of Saskatchewan has when it comes to media requests; in the past five years, he has done more than 500 interviews—a fact he keeps well documented on his website.

"I was surprised that I have done that many interviews," said McGrane. "But during the busy election times, I can be doing five, six interviews a day and those add up."

McGrane's persistence as a media savvy academic seems to come from a combination of information and enthusiasm, and when it comes to the political climate of the city, province and the country, McGrane and his colleagues in the Department of Political Studies can find themselves in high demand.

CTV News has requested McGrane as a panelist during every major election over the past few years. And recently he was interviewed for local news outlets looking for commentary on the proposed changes to the federal electoral boundaries.

The fact he also speaks French in a province where few experts can speak fluently about political topics in both official languages means McGrane is literally on the speed dial of many of the province's media outlets.

"You know, I haven't seen, read or heard all of my interviews, but to be honest, I have never had a bad experience."

But it hasn't always been smooth sailing; McGrane admits there is a lot to learn, and in a hurry, when it comes to conducting interviews.

"You begin by knowing when the mic is on and when it's off, and learning how to sit with a TV camera in your face. And sometimes the questions are just ridiculous, over the top, or speculative. But you learn how to answer them carefully and in a way that the media likes."

The time commitment he gives to the media has not stopped McGrane from the often-rigorous work of a university faculty member that includes publishing, teaching and research.  According to McGrane, the positives of doing interviews far outweigh the negatives.

"There are negatives of course—the time commitment, the difficulty in staying neutral but still saying something interesting, having to deal with people talking about you in online forums or comment boards. It can be tough.

"But it matters, especially as a faculty member in political science. Conducting interviews might not help me on the tenure track, but indirectly there is an appreciation. And it is a part of my job I really enjoy."

Being in the media means being a public figure, so McGrane tries to make himself visible and available through Twitter, his own website, and with regular columns and opinion pieces in newspapers across Canada.

"You must be aware that you are a brand," he said. "Being a public figure is all about reputation. And if you don't like the attention, it can be tough."

The brand McGrane has built for himself comes from his ability to comment at a moment's notice on current events (in French and English), and reporters often say how much they enjoy working with him.

"He is such a great interview and a nice man," said a local producer with  CTV News. "We will certainly be in touch with Dr. McGrane again soon."

But McGrane thinks the real carrot for media are his particular areas of expertise —Quebec, child-care policy, Saskatchewan public policy, and a particular interest in the New Democratic Party, high-profile issues that mean McGrane can be a busy man almost any time of year.

But even he has to say no once in a while, although "you don't want them to never come back … There is reputation management at play."