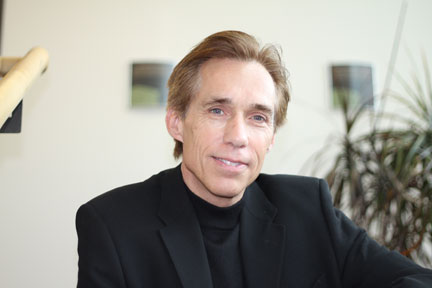 Those three words—woven throughout classes, assignments, group projects and exams—helped earn Kleefeld, assistant professor in the College of Law, this year's Provost's Award for Outstanding Innovation in Learning.
"Professional colleges need practice. That helps students learn the intellectual doctrine and theory as well as building necessary skills," explained Kleefeld, who practises what he preaches by working as a lawyer on certain pro bono cases. "I like to find a point somewhere between pure theory and practice."
In 2008, while at the University of British Columbia, Kleefeld developed a new pedagogy for a negotiating class he taught: conducting negotiations by email. He has continued to refine the method since starting at the U of S in 2010.
"Using email to conduct negotiations teaches a number of skills beyond critical negotiating skills. It teaches how to develop a rapport and build trust in a low-context communication setting without the visual or verbal cues that are available in face-to-face contact. It also demonstrates a number of pitfalls. You can learn a lot from mistakes, and in this simulation, there is no damage to clients."
Negotiation by email is becoming very common in the legal profession as well, he said. "It presents excellent opportunities because it is immediate and time zones don't affect negotiations. It also allows time to think before responding. It is a great blend of telephone and mail."
Kleefeld breaks the class into groups of two and those groups negotiate with a counterpart group on a simulated case. To make the negotiations more realistic and to ensure that the negotiators do not know each other, Kleefeld and some of his colleagues at the College of Law have partnered U of S teams with student groups from other universities, including the Universities of Manitoba, Alberta, Windsor and, most recently, Southern Methodist University in Texas.
"The negotiations run for 10 days and a transcript of the emails is saved," he explained. "I review them and provide detailed feedback, and each team reviews the transcript of one other team. Then we do a debriefing session in class so students can see how their classmates approached the same case. Students have said that this is the most realistic simulation they have ever done."
It is so successful in fact, that Kleefeld upped the ante this year. "We expanded this into a criminal law plea bargaining class and added a client to the email exchange to build in more complexity. The simulation was based on a real case, used with the client's permission and altered to protect client confidentiality."
But for Kleefeld. the real payoff comes not in the form of awards, but from eureka moments. "It is energizing and very satisfying when you witness people learn. The discovery process is fascinating to me. I feel privileged to teach such great students who are enthusiastic to learn from me and, as importantly, from each other. So much learning takes place outside of class, it is very important."
The winners of the 2012 Provost's College Awards for Outstanding Teaching are:
Steve Shirtliffe,Â
Agriculture and Bioresources
Kathleen James-Cavan,Â
Arts and Science, humanities and fine arts
Karen Lawson,Â
Arts and Science, social science
Ian Burgess,Â
Arts and Science, science
Shaun Murphy,Â
Education
Rick Long,Â
Edwards School of Business
Denard Lynch,Â
Engineering
Jon Farthing,Â
Kinesiology
Ibironke Odumosu,Â
Law
Meredith McKague,Â
Medicine
Cheryl Besse,Â
Nursing
David Blackburn,Â
Pharmacy and Nutrition
Chris Clark,Â
Western College of Veterinary Medicine
The recipients of the 2012 campus-wide Provost's Teaching Awards are:
Priscilla Settee,Â
Arts and Science, Aboriginal Education
Kalowatie Deonandan,Â
Arts and Science, International Education
John Kleefeld,Â
Law, Innovation in Learning
Loleen Berdahl,Â
Arts and Science, New Teacher Award
Amelia Horsburgh,Â
Arts and Science, Graduate Student Teacher
Murray Fulton,Â
Johnson-Shoyama Graduate School of Public Policy, Outstanding Graduate Teaching