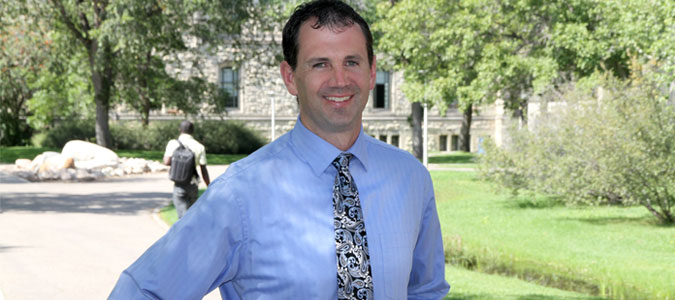 "It's a beautiful campus and, by and large, everyone who comes to campus is coming here for a positive reason," said Penner, a
U of S grad and former Huskie hockey player, explaining why he was interested in the position. "The diversity of people who come here everyday to achieve positive results, that makes it a really neat place to be."

All of those people, close to 30,000 coming and going everyday, he continued, make the U of S campus a small city. "I went from Saskatoon at around 270,000 to about 30,000 on campus. I hope with the smaller size I will get to know more people."

Getting to know the campus community is one of Penner's first jobs. "I need to talk to as many people as possible to find out what Campus Safety does well and more importantly, what is expected of Campus Safety and how we can deliver on that."

Building those relationships is critical to the work the Campus Safety team does, he said. "For any community to be safe and feel safe, we need to rely on the people in the community to contact us if something doesn't seem right. Everyone needs to be an active participant. There are only 30 Campus Safety staff for 30,000 people on campus, but we need them to know they can ask us for help, even if it is just directions."

This is not Penner's first connection to an educational setting; he also put in his time in Saskatoon high schools, the difference being he was not a student. Penner served as an SPS constable in the School Resource Unit, then a sergeant of the Crime Stoppers, School Resources and Cultural Resources Unit in high schools across the city.

"In those roles you needed buy-in and co-operation, and you needed people to work with you for positive results," said Penner, who held the position of staff sergeant in criminal investigations prior to joining the U of S.

Penner, who has been on the job only a couple of weeks, is already getting some great feedback from the campus. "Everything I hear will help make this a great place to study and work. I hope people will feel free to contact me with their thoughts and expectations."