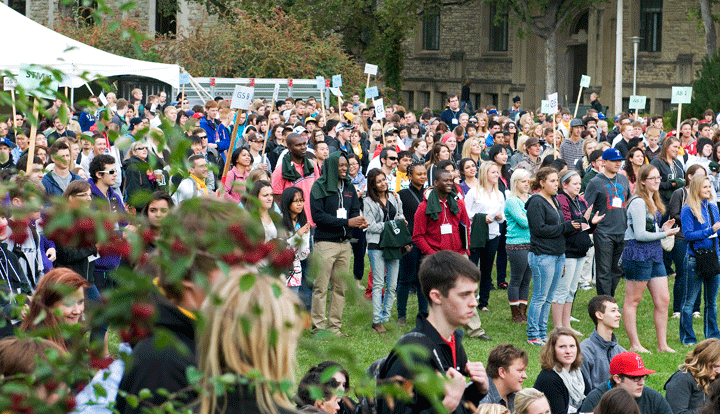 While the final numbers are still being tallied, residence manager Sylvia Cholodnuik estimates that about 1,900 students have occupied the available 2,000 spaces. And on Sept. 3, residence staff set a record with more than 600 students registering in a single day.
"We have never, ever processed that many students in a day," said Cholodnuik.
"Thank goodness for good staff, because I don't know what we would do if I did not have the complement of staff that I have. The staff have been key to the success of getting everything ready and opened."
The record number of students living in residence is a result of the opening of two more buildings in the university's College Quarter development—Birch and Pine Halls. Students moved into College Quarter's Spruce and Aspen Halls last year.
Students have also settled in at McEown Park, four high-rise buildings located just south of the main campus, and Voyageur Place, a group of four halls on the main campus. While there are still about 60 spaces available at Voyageur Place, Cholodnuik is pleased with the residence numbers overall, noting about 780 of the 800 spaces that opened at College Quarter during the last two years are filled.
Another 262 spaces will come on stream soon when the new graduate student residence, Graduate House, opens. Part of Graduate House, which is also located in College Quarter, is expected to open in January 2013.
Cholodnuik attributes the interest in residence to a number of factors, including proximity to campus. "There's the safety concept, the convenience—all of those things," she said.
During the summer, the university raised awareness of the benefits of living in residence through print advertising and social media marketing.
"I think the new building has created all sorts of buzz around residence, because there has been a lot of publicity and a lot of awareness of the new housing complex—and it is beautiful," said Cholodnuik.
Shannon Boklaschuk is a communications co-ordinator in the Students and Enrolment Services Division