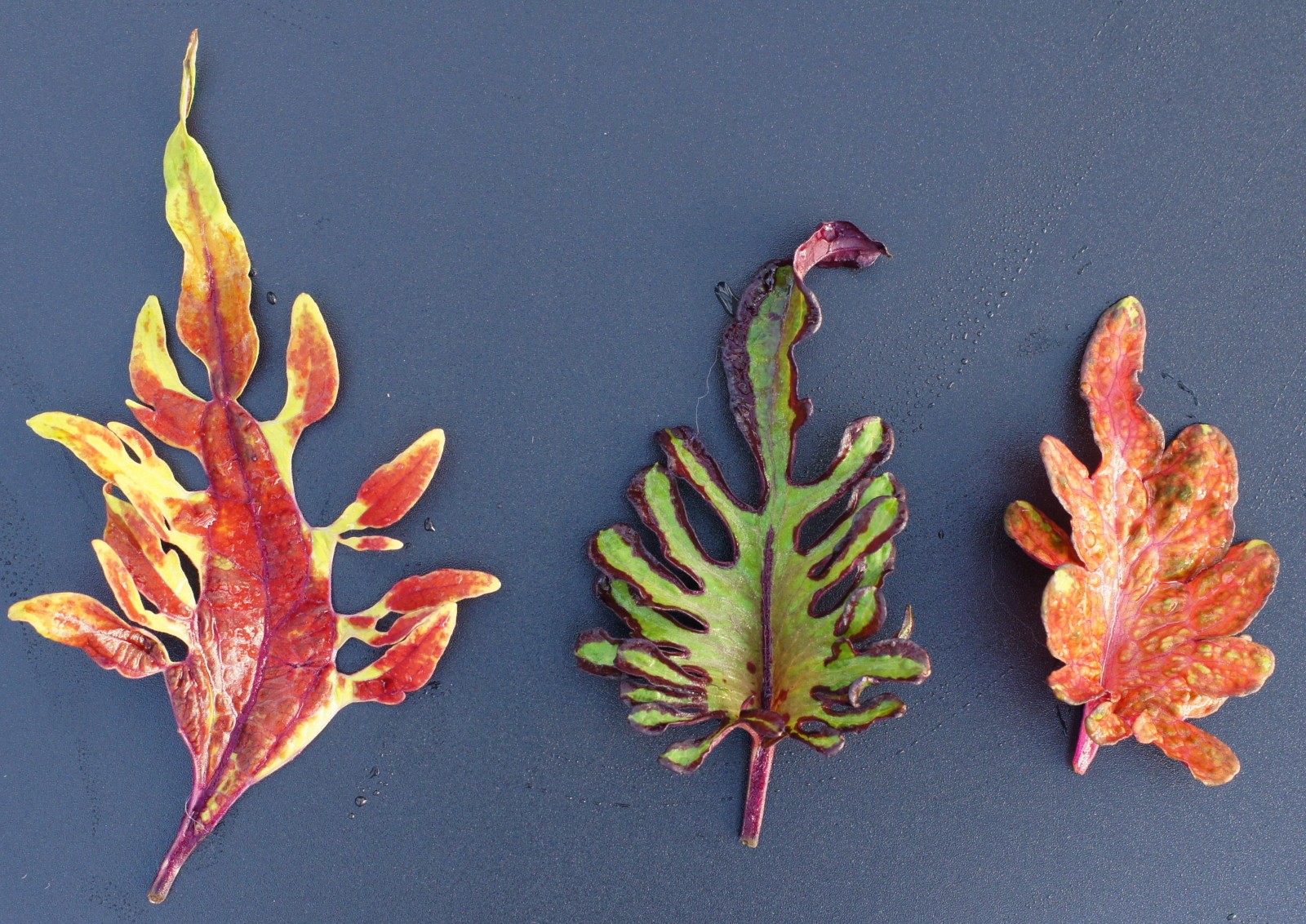 "For about a decade I have used coleus to teach plant breeding and propagation to classes," said Bors, assistant professor of plant sciences in the College of Agriculture and Bioresources. "I just really love coleus; you can create such interesting colour and leaf shapes beyond typical heartshaped leaves. But mostly I just hope that it looks good."
The results of a decade of work is a family of coleus featuring leaves with bright colours and finger-like extensions branching out from the main leaf. The unique plants are now licensed to be sold throughout Canada, the United States, Mexico and perhaps beyond.
"I posted some photos of these plants on an international coleus website. Following that, four companies expressed interest in selling our new varieties," explained Bors. "For each generation we  keep the weirdest and most beautiful plants to breed the next generations. With six generations of progressively weirder plants, each company that visited us confirmed what we suspected: we have the world's weirdest coleus."
In the end, the U.S. gardening company Hort Couture was awarded the rights to sell the plants in North America, he explained, adding that through the licensing agreement, the U of S plant breeding program will get four cents for every cutting sold. "They have the licence for the whole family, about eight different varieties of coleus, which they have called Under the Sea Coleus. All the plants have unusual shaped leaves and colouring; some look like lobster claws or coral, so they went with a sea theme and names like Hermit Crab, Lime Shrimp and Red Coral."
The crustacean-like series offered by Hort Couture is having quite a bit of success, including winning the Garden Idol competition from the American Nursery and Landscape Association, and receiving profile in Better Homes and Gardens magazine.
That success is creating some buzz outside of North America too, with requests for the new varieties coming from as far away as South Africa, Europe and Japan. "Coleus is typically grown  and raised in tropical places like the Caribbean and shipped," he explained. But how was a plant from a tropical climate grown at the U of S in the middle of a prairie winter?
The answer, according to Bors, is through neglect and by accident. "I never put these plants outside. They were in our 'G' greenhouse that has temperature control issues. That greenhouse tends to blast the heat too strongly in winter, then the greenhouse vents open up to let cold air in to regulate the temperature. So the coleus get shocked with a hot-cold cycle during winter. In the summer, we abandon them for our fruit-breeding program but the greenhouse automatically waters and fertilizes the plants.
"They have life's basics but because of neglect they have insects, shading and crowding issues. It really was survival of the fittest for these plants. They survived our neglect and extreme temperature changes. They should be able to survive anything," he said with a laugh.