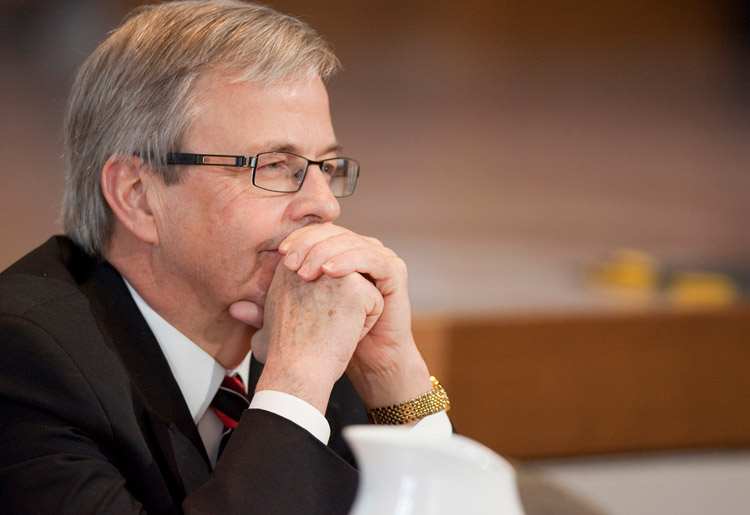 The announcement was made at the Public Policy Forum's Testimonial Dinner in Toronto May 3, held to honour Canada's former prime ministers.
The fellowship, established to celebrate the forum's 25th anniversary and recognize the contributions of Canada's prime ministers to the governance of the nation, brings a prominent Canadian thought-leader to the forum for one year to help conduct research and convene informed dialogue about public policy and Canadian institutions.
"I look forward to Mr. MacKinnon joining us as the first Prime Ministers of Canada Fellow," said David Mitchell, President and CEO of the Public Policy Forum. "His wealth of experience and respect for public institutions make him an ideal candidate to help lead the forum in its continuing work on governance and public service. Through this Fellowship, I know that he will make an impactful contribution."
The forum notes that MacKinnon has had a long career of public policy leadership as a legal scholar and advisor to governments in areas of innovation and justice. He also serves as a member of the Prime Minister's Advisory Committee on the Public Service.
"I am honoured to have received this recognition," said MacKinnon. "I very much look forward to joining the forum and contributing to the important discussions about Canada's public policy."
MacKinnon was appointed an Officer of the Order of Canada in January 2012. He was a member of the federal Science, Technology and Innovation Council from 2007-2012, overseeing with McGill Principal Heather Munroe Blum the preparation of Council's State of the Nations Reports. He served as chair of the Association of Universities and Colleges of Canada from 2003-2005.
MacKinnon joined the College of Law at the U of S in 1975, becoming a full professor in 1983. He was appointed Queen's Counsel in 1990. He went on to serve as assistant dean and dean of law before his appointment as president and vice-chancellor in July 1999.
During his tenure as president, MacKinnon led policy changes to improve the university's success as a competitive medical-doctoral institution. He oversaw major capital expansion at the university that included restoration of the historic College Building as well as construction and renovation of significant teaching and research facilities.
MacKinnon will step down as U of S president June 30 and will take up the position as the inaugural Prime Minister of Canada Fellow beginning in September 2012.
The Public Policy Forum is an independent, not-for-profit organization dedicated to improving the quality of government in Canada through enhanced dialogue among the public, private and voluntary sectors.
Photos of President MacKinnon are available in the
U of S Flickr gallery