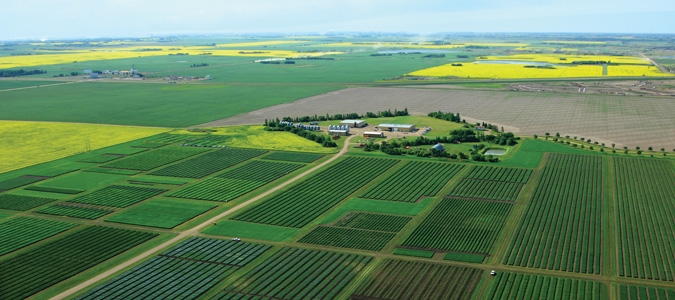 "Today there are nearly 900 million people, one in eight among us, on this planet who are chronically malnourished. An estimated 50 million children under the age of five go to bed hungry every night. Poor nutrition plays a role in at least half of the world's 11 million child deaths each year," Saskatchewan Premier Brad Wall said. "The world's population is expected to reach nine billion by 2050, an increase of two billion from today. Global food production will then have to increase by 70 per cent to keep pace with demand."
With initial commitments of up to $35 million from PotashCorp – one of the largest corporate donations for university research in Canada – and $15 million from the province over the next seven years, the institute will apply Saskatchewan's unique resources, innovation and expertise to address the increasing global demand for safe, reliable food. The institute will be based at the U of S, a world-renowned centre of excellence in agriculture and food-system related research.
"Food security is clearly an enormous global challenge and much too big a problem for any single university, government or corporation to tackle on its own. And unlike some existing food security institutes that focus on a piece of the problem, we are determined to find solutions across the entire food system; from field to fork," said Ilene Busch-Vishniac, U of S president. "This will mean developing not just new and urgently needed science and technologies to improve crop production, but also new policies to ensure that food gets to those who need it efficiently and without waste."
The institute will build on Saskatchewan's existing strength in crop production systems through new investments in technological, economic, nutritional and environmental improvements to the food supply system at home and around the world. It will take a strategic approach to the food supply system – for example, breeding for higher yield, improved nutrition and better processing traits, looking at how soil quality affects the nutritional value of crops, and adapting prairie zone crops to available soil and water.
"Advancing Saskatchewan's agricultural advantage allows us to significantly increase the global food supply – our moral obligation as a good global citizen – while building the next economy, an innovation economy, here at home," said Wall.
Focusing on crops grown in Saskatchewan as well as those grown in many other parts of the world such as wheat, lentils, peas and canola, essential sources of food for a significant portion of the world's population, the institute will develop transferable solutions that can be applied to relevant regions and partnerships around the world.
"This institute is uniquely a Saskatchewan partnership, one that reflects the best values of our province including co-operation, collaboration and innovation. It will allow us to leverage the strengths of each partner and the insights we bring to food security across the value chain from research to policy to development and productivity," said Bill Doyle, president and CEO of PotashCorp. "Most importantly, this institute will have real and measurable impacts around the world starting here at the University of Saskatchewan and reaching food producers and end consumers in many, many countries."
"Over the past century, the University of Saskatchewan has led far-sighted research and innovation to help grow a province and feed a growing nation. Now, through this innovative partnership and its bold vision, we will build on our strengths and provide new research solutions across the food supply system to help feed a growing world," said Busch-Vishniac. "This collaborative institute will create unique opportunities for cutting-edge science and policy research that will attract top faculty and students and put Saskatchewan on the global map for food security research."
The partners have signed a Memorandum of Agreement outlining the institute's mandate, funding, structure and governance. A search for the institute's initial executive director and CEO is underway.
For background information on the Global Institute for Food Security click
here
. Additional information on the food security challenge can be found
here
, and further information on the U of S is
here
.