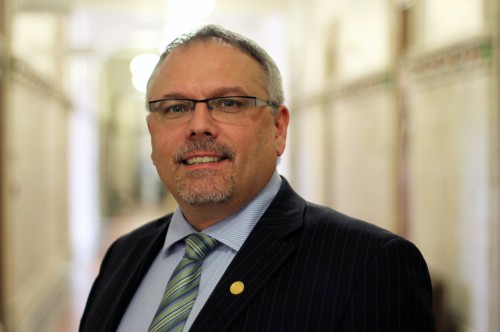 "This reorganization formalized a university-wide function; like HR and finance, communications and marketing is carried across the campus," explained Ivan Muzychka, associate vice-president communications in University Advancement. "Now, with this reorganization, we have brought together under five portfolios about 60 marketing and communication professionals who are joined by a common vision and common goals. The reorganization gave an existing campus-wide group more structural definition and created a number of specialized teams."
The change created five portfolios—alumni and development communications, college communications, internal communications, marketing, and strategic communications— each led by a director, he continued. "However, we reorganized without investing large amounts of money. No new people have been hired; the directors already existed as senior employees. The university is facing a financial challenge, and this was always in mind during the process."
Communications was one of the first areas examined by the Service and Process Enhancement Project (SPEP) in 2011 with an eye to better co-ordination across campus, said Muzychka. Research stemming from SPEP revealed that communication and marketing professionals had a "desire to co-ordinate this and unify work around specific goals.
"We wanted more effective and more cost-efficient communications at the university and this will do that. We know that when we have co-ordination and participation on a project from across the university, we have more impact. The positioning project, for example, was university wide and brought together different stakeholders that represented all of the university."
The new structure will also result in cost savings, other efficiencies, and consistent messaging and branding, he continued.
"We will see efficiency increase when co-ordination increases. Advertising co-ordination, for example, will eliminate three or four ads in the same publication if one will do. Then when the audience hears our message, it isn't a number of disparate voices, but rather one coherent voice. That makes our messaging more effective."
Consistent branding and messaging are critical to raising the university's profile. "One of the goals is that we need to raise our profile in Saskatchewan and outside of the province. As we increase our research intensity and communicate that efficiently and effectively, we will see our reputation, profile and awareness increase with key audiences."
But all the expected benefits come with growing pains, he said. "The toughest part I'd say, were some of the fears and anxiety this restructuring created (but) we wouldn't effect this change if we didn't believe we could be more effective by co-ordinating this work."
In the end, Muzychka said he expects to see a co-ordinated team that knows exactly how much money is spent on marketing and communications, and one that creates strategies and plans that benefit all units and departments, even those without any significant marketing and communications capacity.
"I'm excited about this change. We have a new president, we are in the U15 and we are facing a number of other changes (that require communications). We have a role to play. Communications at the university is successful on many levels. The communications and marketing team is very good and award winning. I think there is potential for our work to make a very large impact in helping the university achieve its goals."
Communications and marketing structure
Strategic Communications


Director: Patty Martin


Portfolio: news, media relations, senior executive communications, strategy and issues management, and government relations communications


College Communications


Director: Jennifer Millard


Portfolio: college and school communications


Alumni and Development Communications


Director: Christy Miller


Portfolio: communications with university alumni and donors


Internal Communications


Director: Sharon Scott


Portfolio: communication within the campus community


Marketing


Director: Carla Vipond


Portfolio: advertising, web, social media, graphic design, branding