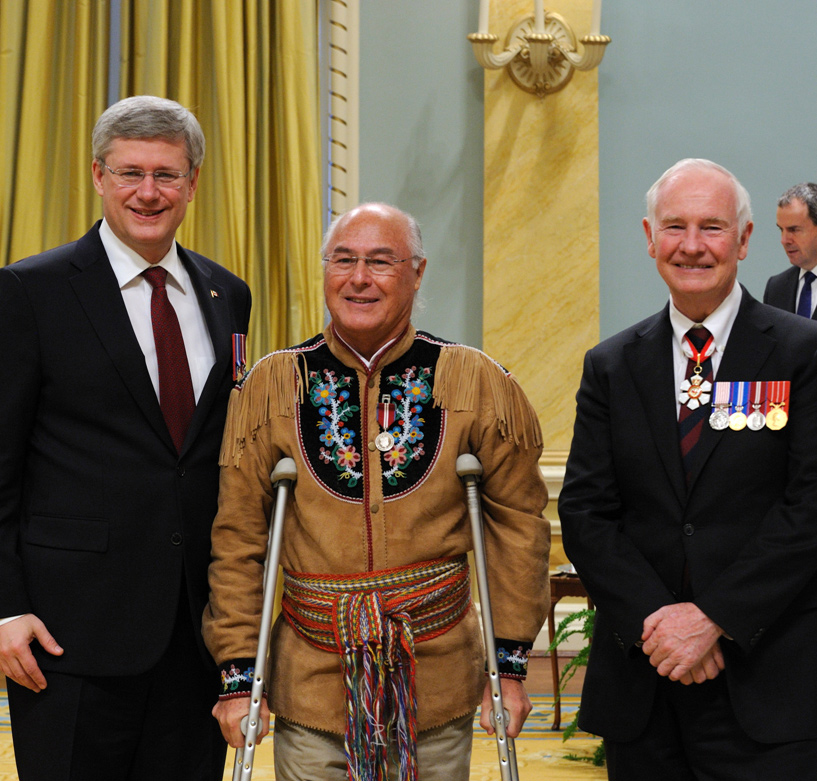 Dr. David Chalack
(DVM'75) was chosen for his contributions to the field of animal care and to the success of the Calgary Stampede.
He has been involved with the Calgary Stampede for over 35 years, serving as chair and president of the board from 2009 – 2011, when he implemented a new animal welfare policy that includes independent reviews and public engagement—a model that is being copied by other large exhibitions.
Dr. Chalack was an early pioneer in the practice of herd health and the entire concept of preventative herd medicine, something now common to all veterinary clinics. He was also recently inducted into the Canadian Agricultural Hall of Fame.
"As a veterinarian and a person that comes from rural roots, I think it was very meaningful and it speaks to the importance of the festival we call the greatest outdoor show on earth," Chalack told a reporter from the
Calgary Herald
.
Clement Chartier
(LLB'78) was chosen for his leadership as president of the Métis National Council, and for advocating for Métis and Indigenous rights.
Elected president of the Métis National Council in 2003, and currently in his third term in the position, Chartier has long been an advocate for Métis Nation's rights at various levels of Canada's judicial system and continues to provide counsel in on-going Métis-specific cases. He hopes to continue to make progress toward adopting a new modern Métis Nation Constitution over the next few years.
In 2004, Chartier was appointed Queen's Counsel by the Government of Saskatchewan based on his years of respected legal work.
Chartier has served in both political and administrative capacities with numerous Indigenous organizations, including executive director of the Native Youth Association of Canada, president of the World Council of Indigenous Peoples, president of the Canadian Indian Lawyers Association and policy analyst for the Royal Commission on Aboriginal Peoples.
W. Brett Wilson
(BE'79) was chosen or his many contributions as an entrepreneur, community leader and mentor.
Made famous by his role on CBC Television's
The Dragon's Den
, Wilson co-founded FirstEnergy Capital Corp—the first investment bank to focus exclusively on Canada's lucrative oil and gas sector. Under Wilson's guidance, FirstEnergy developed some of the industry's most innovative community giving programs and highly regarded charity events.
In 2011, Wilson was appointed a Member of the Order of Canada to add to his accolades that include Canada's "Top 40 under 40", "Top 20 Deal Makers", and being named among the U of S 100 Alumni of Influence.
In 2007, he established the Wilson Centre for Entrepreneurial Excellence at the U of S. His business and philanthropic ventures have centred on finding opportunities for innovation in his home provinces of Alberta and Saskatchewan.
Governor General David Johnston and Prime Minister Stephen Harper hosted the first awards ceremony in conjunction with the 60th anniversary of Queen Elizabeth II's accession to the throne. Over the next 11 months, 60,000 Canadians will receive the special medal that recognizes award recipients' contributions and achievements in service of their fellow citizens.
"The recipients who are honoured by this medal have made Canada better," said Johnston. "Individually, they have improved the well-being of many of our communities, and together, they have helped to create a smarter, more caring nation. They represent a mosaic of individual experiences and accomplishments. Like her Majesty, they inspire others to take up the call to service."
Find out more about U of S alumni
here