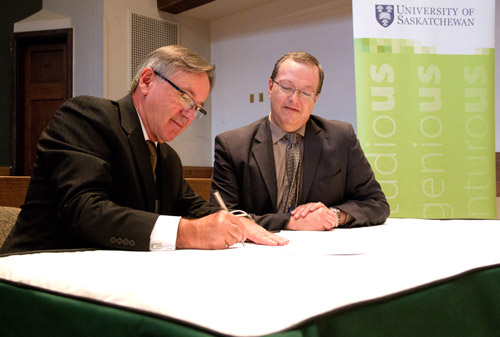 The Shad Valley program is focused on science and entrepreneurship and is designed to challenge and motivate high-achieving youth to use their talents to address important global problems while making a strong contribution to Canada's economic and social vitality.
"We are very excited to partner with Shad Valley and host such talented young people here," says Fairbairn. "This partnership is a natural fit with our university priorities for innovation and outreach and will allow potential students to experience all the U of S has to offer in terms of expertise, unique facilities and learning opportunities."
Barry Bisson, Shad Valley President, added "Canada is experiencing a significant productivity gap. It's crucial that innovation-minded organizations like Shad Valley and U of S partner to encourage brilliant young students to pursue fields of study that will increase Canada's economic capacity, and encourage them to use their abundant talents to advance the country in a competitive global environment."
Ben Voss, an alumnus of both Shad Valley and U of S, says "I couldn't be more pleased to be part of the launch of this partnership.  I'm a proud U of S engineering grad, and Shad Valley was a crucial part of my development as a leader, an innovator and an entrepreneur.  The creation of this partnership between U of S and Shad Valley feels like a homecoming for me. The alliance will build innovation in our province by developing our most important natural resource – our talented youth."
In July 2013, the U of S will welcome 50 upper-year high school students from across Canada at its inaugural one-month intensive Shad Valley program. Acceptance into the program is a highly competitive, application-based process, with students accepted generally having averages over 90 per cent. The program involves lectures, labs and workshops, as well as social and recreation activities to enhance students' knowledge and build skills. They will also have the opportunity to invent a new product or expand on an existing one as members of teams working on an entrepreneurship project. Participating faculty and mentors live in residence alongside students during the month which lends itself to life-long connections and friendships.
Canadian high school students who meet the requirements are welcome to apply, and there is no limit to the number of students admitted to the program from any school, school board or region. Admission deadline is mid-December. For more information, please visit
www.shad.ca
.