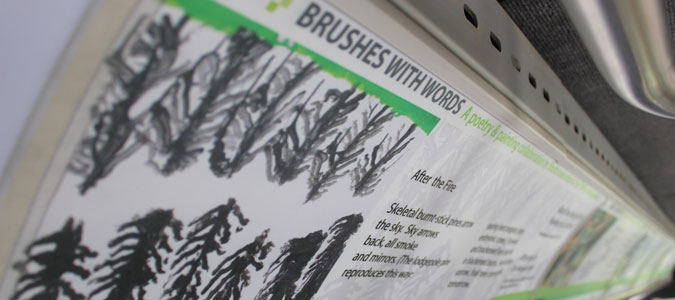 Students enrolled in the Master of Fine Arts in Writing program at the U of S were paired with residents from Sherbrooke to combine painting and poetry into one expression, creating Brushes with Words.
Over the course of four months, the students met with resident painters to discuss the inspiration for the paintings in order to write a poem to accompany each work. The residents "were part of the poetry as well, through word association exercises," explained Jeannette Lynes, co-ordinator of the university's Master of Fine Art in Writing program and author of five collections of poetry and one novel.
In only its second year at the U of S, the MFA in Writing—the only program of its kind in Saskatchewan and one of only seven in Canada—is offered through the Interdisciplinary Centre for Culture and Creativity (ICCC) in the College of Arts and Science. The two-year program is "largely workshop driven, teaching students to write a broad range of material, mostly poetry and fiction," explained Lynes. "It's very hands-on learning, and mentorship is a big part of the program. The thesis is a creative work, hopefully of publishable quality."
When the ICCC was approached by Sherbrooke to partner with the community home for individuals with limited mobility and cognitive disorders, discussions consistently included the idea of combining painting and poetry.
Sherbrooke has a well established art program and "we talked about how we could marry the writing of MFA students and the painting of Sherbrooke residents," said Lynes. "We came up with ekphrasis, poetry inspired by visual art." Ekphrasis comes from the Greek ek (out) and phrasis (speak). "We're a very visual culture, so it seemed to fit."
Patricia Roe, Sherbrooke's communications and public relations leader said, "Verbal communication was pretty challenging for the students at first" because of the limited capabilities of some residents. "It taught [students] to listen acutely to interpret the painting and write about it. This is a powerful opportunity for students and artists."
Andréa Ledding, a student in the MFA in Writing program, concurs with Roe's assessment of the power of artistic collaboration. "The sharing of art is more than just unveiling a piece of work; it's also the process and the journey. There is a partnership and a mutual sharing, and that is what I most enjoyed working with the residents—in particular Larry Fitzpatrick who I spent the most time with. Now I light up when I see him, the revealed person behind the art. I love that light in him, and it draws me."
When asked why city buses were chosen to display the pieces, Lynes explained, "I'm interested in public art, and transit is public and for the people—everyday people. Saskatoon is good at making art accessible for the people."
Recognizing the value of Brushes with Words for all involved, Lynes is considering future initiatives to enhance learning for students. "This was a big project for us, so we'll take time to breathe a little bit. But Brushes with Words has hopefully jumpstarted a number of subsequent projects. I don't know what those are yet, but there are lots of possibilities. This has been a wonderful experience."
Derrick Kunz is an alumni relations consultant and editor of the
Green and White