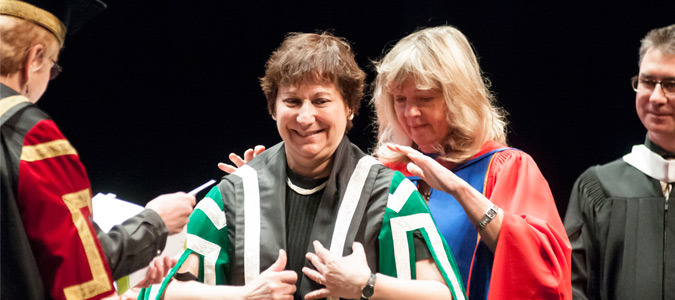 The installation was held in conjunction with the university's fall convocation. Speaking to an audience of special guests, 994 graduates and their families and supporters, Busch-Vishniac pledged to chart a course for the future for the U of S and to work "tirelessly and with a narrowness of purpose – to serve this fine province through education and discovery."
In her installation address, Busch-Vishniac paid homage to the vision of the U of S founders and the institution's strong tradition of planning, adding, "it is also impossible to separate the future of the University of Saskatchewan from the future of the province." The challenges of Saskatchewan's economic boom include recognizing and removing barriers to post-secondary education, particularly for Aboriginal students, and equipping all graduates with the skills they need for success in life, she said.
The most important changes in the U of S since its founding, she continued in her address, relate to globalization and research intensity. Sharing discoveries–an imperative for universities– today extends beyond regions or countries to include the world, she said. "To balance our commitment to the province with the reality of a worldwide community of scholars, we must achieve what is encapsulated in the adage, 'Think globally, but act locally.'"
The president went on to describe how the U of S, like most post-secondary institutions, has come to understand more fully how research and its outcomes can drive political change and economic growth, but also best practices in teaching and learning. The distinction between education and research, she said, is disappearing.
"Discovery must permeate every discipline, from history to dentistry, from engineering to law because the thorny problems of the world today demand teams of scholars from many disciplines working together to find innovative solutions. Discovery must be a part of all courses, from entry-level classes to those for advanced graduate students."
Busch-Vishniac also spoke of the challenges of maintaining a traditional physical campus in a world of online connectivity, arguing that important non-academic factors related to student success like involvement in extracurricular activities and peer relationships cannot be provided by "canned" lectures served up to students online. University of Saskatchewan campuses are where students determine their careers, develop social networks and are free to experiment with new ideas and experiences. These are, she said, advantages that must be emphasized, but they must also be adaptive enough to meet the needs of 21st-century learners.
"We cannot be arrogant and content to rest on our history. We must instead be proactive in defining and creating our place in the future."
Busch-Vishniac assumed her duties as president July 1, having most recently served as provost at McMaster University in Hamilton. She holds undergraduate degrees in physics and mathematics from the University of Rochester, and Master of Science and PhD degrees in mechanical engineering from the Massachusetts Institute of Technology. Her academic career includes appointments at The University of Texas and Johns Hopkins University where Busch-Vishniac was dean of the Whiting School of Engineering. Her research focuses on aspects of acoustics and on diversity issues related to engineering education.
To view the entire address, click
here
.