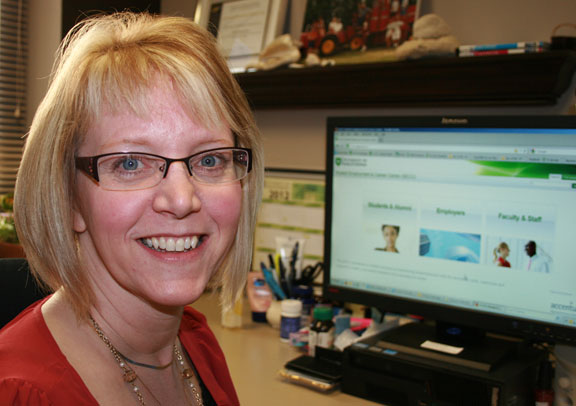 "When economic times are good," said the employment co-ordinator, "we've got a lot more activity and right now, our students are in demand." With hundreds of job listings to choose from, students, Thompson has noticed, are largely looking for work close to home.

The centre offers a wide range of services to help students find work, she explained, and it acts as a broker between students and employers – local, regional and even international. But the most popular employer with students, the one list of jobs they search most often, is the University of Saskatchewan itself.

The centre's website offers students email subscriptions to 44 categories of job postings but according to Thompson, the Working on Campus category is by far the most popular. In March, that category, which includes Royal University Hospital and tenants of Innovation Place, had 1,352 subscribers. Part of its popularity might be that working where they study is a good option for students; the flexible nature of the jobs allows them to put academics first.

"Our mission is student success," she said. "Employing students is about engaging students. It's part of the sense of community, part of the atmosphere at the university."

For international students, campus work is particularly appealing. Thompson explained that full-time students from other countries who have study permits can work full time at the university but are restricted to a maximum of 20 hours per week at jobs off campus.

But finding work on campus takes work, she said, because not all jobs are posted with the Student Employment and Career Centre. The Human Resources Division maintains a listing of available jobs, some are posted on college and unit website, "and some never make it to the posting stage—they're filled by students making personal contact with professors who are looking for a research assistant or marker."

Located a little off the beaten path in lower Marquis Hall below the Bookstore, the centre and the services it offers for free online job posting may not be as well known to U of S faculty and staff as it could be, she said, "but this is where students are looking."