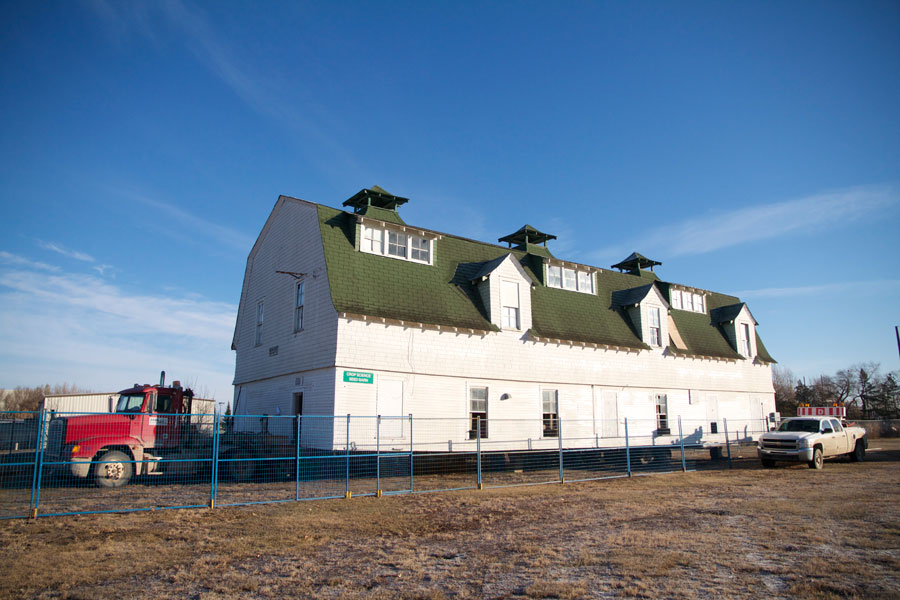 The 80-plus ton building was moved in the wee hours of the morning of Oct. 30 to make room for future development in the northeast precinct of College Quarter. Ron Cruikshank, director of planning and development with the Facilities Management Division, said the structure will eventually rest on a grade-level foundation in its new location and will be used for cold storage of grounds maintenance equipment.

The move itself was done at a cost of $35,000. Cruikshank said the budget for the entire project is $180,000, which includes the move and clean up of the former barn site. The condition of the barn, which was built in 1915, will now be assessed and plans are in the works to restore its exterior.

And it turns out the seed barn is one of the most well travelled buildings on campus. Cruikshank said research on the structure revealed it was originally located on the southeast side of the intersection of College and Campus Drives, near the Saskatoon Field House. Archival photographs show it sitting on a concrete foundation there but at some point, it was moved onto a wood foundation on the southwest side of the intersection.

The barn was built by the federal government and became the property of the university in the 1950s, he said.

The seed barn in its new location on East Road. Inset photo is of the middle-of-the-night move as the building is turned off Preston Ave. and onto East Road.