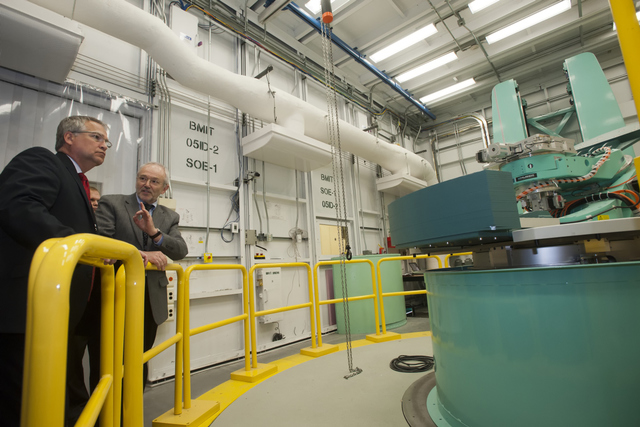 "The Government of Canada recognizes our country's role as a world leader in innovation," said the Honourable Gary Goodyear, Minister of State (Science and Technology), who toured the CLS during a visit to Saskatoon. "By securing funding in operations and maintenance costs for major research facilities, this government takes a critical step to assist Canada's research community to address national research priorities and global challenges."

In addition to scientific discovery, operations at the CLS are estimated to add $90 million to Canada's GDP, $33 million to Saskatchewan's GDP and about $1 million to the local economy. The national synchrotron also undertakes industrial research, delivering an estimated $15 million in value to its clients in 2010.

"Today's investment underscores the value to Canada of this flagship national facility, one we are proud to host on our campus," said U of S Vice-President Research Karen Chad. "Having the CLS right here has allowed the U of S to attract and develop world-class research talent whose efforts drive discovery and innovation, as well as providing unparalleled opportunities for our students."

Researchers from across Canada and countries around the world use the CLS for research in a wide range of areas, including drug development and improving diagnosis and treatments for such maladies as osteoporosis, cancer, multiple sclerosis and Alzheimer's disease. Researchers using this extremely versatile research facility are also making advances in agriculture, energy and mining, and environmental sustainability.

"We are most grateful to CFI and the Government of Canada for this investment. It is the stamp of approval that says the CLS is a world-leading science facility, which allows us to get support from other stakeholders," said Josef Hormes, executive director of the CLS. "To date, we have had over 6,500 visits by 1,700 users from 10 Canadian provinces and 25 countries, close to 1,000 scientific publications, and our numbers continue to grow."

Scientists from the U of S and Cameco use analytical techniques available only at the CLS to conduct research aimed at reducing the environmental impacts of mining.

"The CLS is a valuable scientific asset that has greatly benefited the mining industry," said Engin Ozberk, vice-president, Cameco technology and innovation. "We commend the federal government for continuing this worthwhile investment and for its commitment to innovation."

Today's funding is part of $145.7 million awarded across the country by the CFI through its Major Science Intitiatives Fund, which provides support for operating and maintenance costs of CFI-funded large-scale research facilities. The national synchrotron facility is a major past recipient of CFI funds, both for its initial construction and continued development. CFI grants provide 40 per cent of total costs, with the balance made up by partners in government, other funding agencies, and academia.

"These facilities are all major drivers of economic and scientific productivity in Canada," said Gilles Patry, President and CEO of the CFI. "We are pleased to be playing a role in their continued success."

Funding provided by CFI and other agencies provides resources outside the university's operating budget that are dedicated specifically to research. Past success in this area has helped secure the U of S position as a member of the U15, Canada's top 15 research universities.