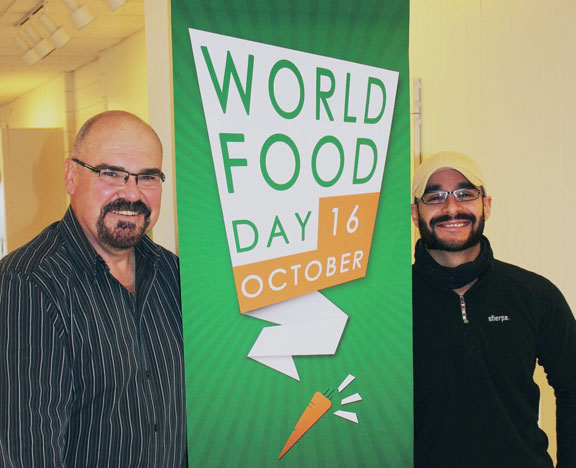 World Food Day, established in 1979 by the Food and Agriculture Organization of the United Nations, is an opportunity for citizens to come together to strengthen national and international efforts against hunger, malnutrition and poverty, said Grant Wood, a professor of plant sciences in the College of Agriculture and Bioresources. It is also a chance to draw attention to achievements in food security and agricultural development.

Working with the university's Office of Sustainability, Wood co-ordinated a display in the Agriculture Building that highlighted food wastage in Canada. He said Statistics Canada figures show that in 2009, the annual per capita wastage of edible food at the retail and consumer levels was about 172 kg. "It's a sad paradox that we have food insecurity and food wastage in the same city," said Wood, who teaches a course in urban food production.

Knowledge of food storage requirements, buying habits, preferences and recipes are other tools that were visually illustrated in the World Food Day display. In one example of the information provided, Wood pointed out that the best before date does not mean the food is unsafe and should be thrown away. "Unfortunately, consumers incorrectly think the food is unsafe and dump tons of food every year," he said.

Best before dates on shelf-stable foods are often just a manufacturer's estimate of when the product will no longer be at "peak quality," he said. "The Canadian Food Inspection Agency website says you can buy and eat foods after the 'best before' date has passed, however, when this date has passed, the food may lose some of its freshness and flavour, or its texture may have changed. Understanding what best before means will certainly help consumers make informed decisions about what to keep and what to throw away."