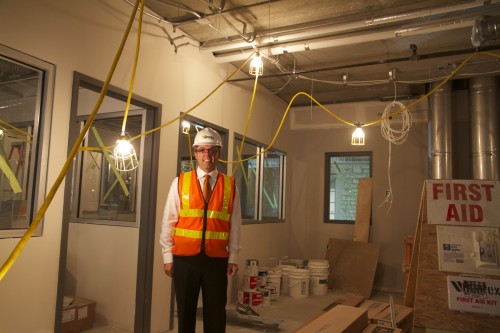 Work on the three-storey addition began last fall and according to Derrin Raffey, chief financial officer and STM director of administration, construction is expected to be complete by early November. The $8-million project is a few weeks behind schedule "but classes are starting in here in January so it's got to be done."

The addition fronts the original building along College Drive and is largely dedicated to learning and social spaces for students. It will provide 325 new classroom seats with about 200 of those in two largesized rooms. The elevator in the addition combined with another elevator to be added in the original college building in in the next few years will make the entire building fully accessible, said Raffey.

Other spaces in the addition are designated for group study and research while an atrium will provide room for students to meet and socialize. Administrative offices will be located on the third floor of the addition along with a boardroom that can double as a classroom. The extra office will provide much needed space relief for faculty and staff throughout the college, he said.

The addition will be among the most technologically advanced building on campus, said Raffey, with the latest interactive audio-visual systems and wireless capabilities throughout. "It's expensive," he said, "but we have to accommodate so many learning styles" as well as take advantage of distance learning opportunities.

Raffey said construction crews ran into delays with the project right at the start when excavators hit a higher-thannormal water table around the foundation "and the water just wouldn't stop." The solution was a redesign of the entire building foundation including additional weeping tile and installation of a large sump pump to divert the water into the city storm sewer system.

The construction also involved disconnecting STM from the university's heating system. Raffey said the steam line between Place Riel and STM was in need of replacement so the move saves about $1 million on that project. By installing an independent low-pressure boiler system in the addition to serve the entire college, STM will save about $75,000 per year in heating costs.

The college is about half way to its $6-million fund raising target for the project, he said. The remainder will come from funds set aside by the college over a number of years for the addition. There has also been a $2-million request made to the provincial government for support.