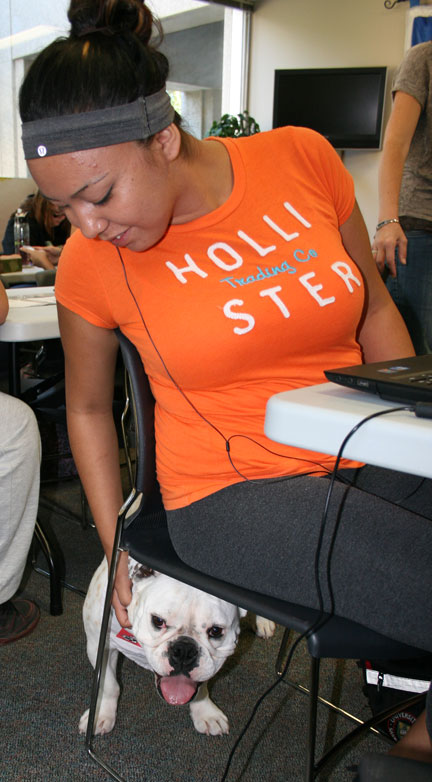 It's PAWSitive Thursday at the centre, and Anna-Belle, an English bulldog, is lapping up the attention (and an occasional treat) with her handler Colleen Dell, professor of sociology and public health.
"We know from the literature that animals can reduce stress, make you feel loved, all of that," Dell said.
PAWSitive Thursdays are a joint effort of Dell and U of S Student Health. The aim is to give students an outlet to de-stress as they enter university, or during busy times such as exams. Dell explained that about three quarters of Canadian families have pets, and these pets are an important part of students' family lives. Once they arrive at university, they are cut off from that support but this is where Anna-Belle, a certified therapy dog, can help.
"People become so animated (when Anna-Belle visits) and it becomes very positive and elicits good feelings," Dell said. "People have a different bond with animals; they're non-judgmental and all that good stuff."
Anna-Belle is also a great icebreaker. Dell shared how one new student was very comfortable approaching Anna-Belle for a cuddle and ear scratch, which led to a conversation about him having trouble finding his sociology class. Dell volunteered that she was a sociology professor, asked him which of her colleagues was teaching the class and helped him with directions.
"'She just makes me smile' he told me," Dell said. Later, the student went to Anna-Belle's Facebook page to add a smiley emoticon and a heart.
Student Health will be posting the locations of PAWSitive Thursdays in PAWS bulletins and on
Anna-Belle's Facebook page
. Anyone interested in inviting Anna-Belle and Dell to visit a student lounge, class or group can contact Rita Hanoski at rita.hanoski@usask.ca to make arrangements.