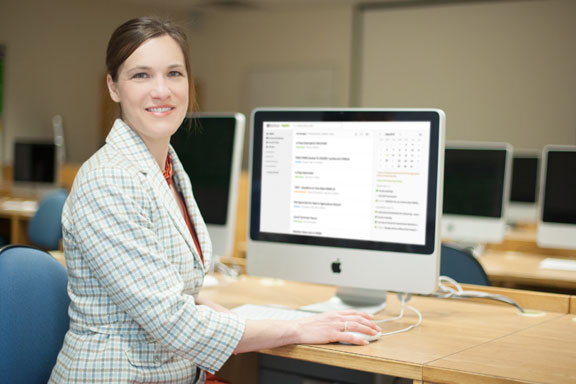 "This is not just a 'prettification'," said Medbh English, content and communications specialist with the PAWS team. "It's a completely different approach to how we deliver content."
In fact, when designer Colin Skrapek unveiled the demo version to the PAWS team, English's first reaction was, "Wow. This is going to be good."
Not only is the new user interface cleaner and less cluttered, said English, the whole previous structure – which saw boxed channel content appear on multiple tabs such as Employee or Admin Services – is gone altogether.
Instead, all content will be accessible from the new PAWS homepage. Task-based channels such as registration and employee vacation time reporting will be a click away. Timely content will appear in a prominent centre column, making it easier to see announcements, bulletins and news feeds. One-time tasks like voting or Aboriginal self-declaration will show up at the top of that centre column and remain there until either completed or dismissed.
"You won't have to go searching around to find things," said English. "It's a more intuitive site."
The changes are largely the result of a response from PAWS users, said English. Overwhelmingly, staff and students said they wanted things easier to find; cleaner and more streamlined were common themes in a user survey conducted this past year.
The PAWS team within Information and Communications Technology (ICT) set as a goal to deliver relevant, timely and useful content, said English, and to make it work on a variety of different formats, from desktop to hand-held devices. For English, the team effort was a success: "It not only looks a lot better, it works better."
She added the PAWS team is also working closely with the ICT Help Desk and ICT Training Services to ensure a smooth transition for users.
Jennifer Webber Forrest is communications specialist in ICT.