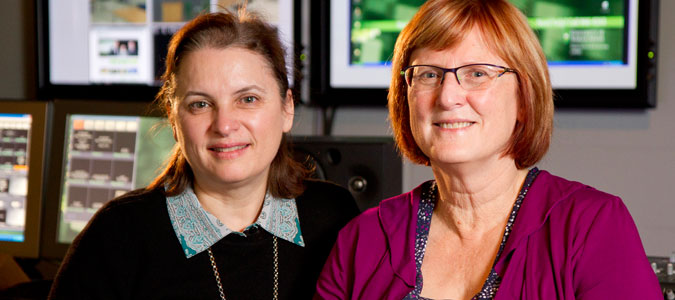 Through its new media teaching resource fund, eMAP has offered its expertise to create materials that will enrich student learning. "There isn't always funding available for these kinds of projects," said Elizabeth Lulchak, eMAP director, "and we were looking at what we can do to support teaching and learning on campus." Using revenue from its off-campus work, the unit set up the fund last spring and offered a maximum of 20 grants of up to $5,000 each to instructors who wanted to explore the possibilities of video, audio, apps, interactive games, animation and even virtual reality.

Lulchak said about 30 applications were received, and 20 were selected based on a number of criteria including the specific learning outcomes of the project, the potential to use the materials across disciplines and over time, and the feasibility of actually creating the teaching aid. Adrienne Thomas, head of media productions, said eMAP staff met with the successful applicants to discuss details of the project "and to make some recommendations about what they want to do." Managers were assigned to each project and most are now in pre-production.

The range of projects is very broad, she said. Among the examples she gave was using gigapixel photography to record soil strata for soil science students. Combined with an interactive component, this material will be available to students virtually and at any time during their course, negating the need for costly and time-consuming field trips.

Some of the projects involved recording procedures and practical applications that students are required to know but are usually demonstrated only once. Introductory laboratory procedures or clinical orientation sessions are examples, "but now we're creating resources that students can go back and review online, and they have a long shelf life."

There are also projects to create very specific instructional videos, Thomas said, including one on dental suturing techniques. "It's not necessarily the easiest thing to shoot video inside a mouth so it's a challenge for us but we're using new video techniques with animation enhancements."

Another one that she described as "real tricky" is recording a wire myograph procedure for medical pharmacology. This involves doing both still and video photography through a microscope.

Some of the teaching aids will be delivered this spring; the rest will be available to instructors for the fall term. As part of the grant contract, those instructors will be providing eMAP with feedback on the effectiveness and quality of the teaching tools, said Thomas, "making the whole process a bit of a research project for us on what is really effective use of multi-media in a variety of different applications."