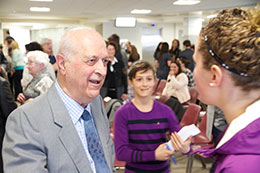 By sharing on his own life experiences and the path he took in his diverse career, Nasser said he hopes the book will inspire students to achieve both personal and professional goals. The book, he said, is "what I've learned in my life - my observations. I'm passing this on to students so they can hopefully learn from the experience of others."
Born and raised in Lebanon, Nasser earned his Bachelor of Science in Engineering at the American University in Beirut, his master's degree in Kansas, and his PhD at the University of Saskatchewan where he was a professor of civil engineering for 33 years. He is well known in Saskatoon as a real estate developer, and known in engineering circles for the invention of the K-slump tester, a device that tests the consistency, or slump, of concrete when it is poured.
Nasser traces his professional achievements to following his passions in life. "I never stopped moving until I found what I was passionate about – teaching, education and research."
He recommends in the book that students who are searching for the right career look first to the subjects that they are most interested in; "do what you love to do and the money will follow."
As  supporters of the U of S, Nasser and his family have donated close to $13 million to the institution over the last 45 years, and over 500 students have benefited from the Nasser Awards Fund since it was created in 1967.
Proceeds from the sale of
How to Achieve Your Dreams
will support a new emergency fund for students at the U of S, and Nasser has committed to match all proceeds in order to double the contributions to this new fund.
For more donor stories and news, visit
give.usask.ca