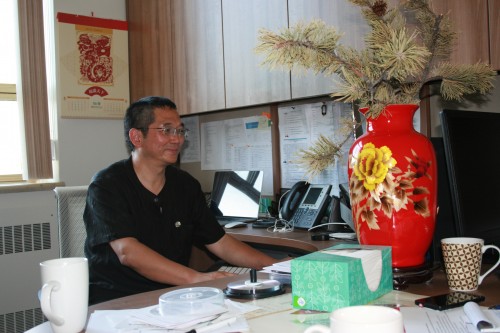 It has been a little over a year since the institute at the University of Saskatchewan opened. Yu is its director, seconded from his job as deputy dean of humanities and social sciences at the Beijing Institute of Technology (BIT). He shares the director's position with U of S sociology professor and China advisor, Li Zong.

Yu reports that demand for the institute's adult Chinese language courses both on and off campus is growing, and a partnership with Saskatoon Public Schools will see Chinese classes offered in Brunskill and Greystone Heights Schools this year. Yu explained the institute has also started a social club on campus and made connections with the local Chinese Cultural Association in Saskatoon.

"We co-hosted a Chinese New Year celebration at TCU Place that drew more than 600 people," Yu said, "So many local people participating—this cultural exchange—it is exactly what we are trying to do."

Yu's passion for sharing Chinese culture began with his son's playmate in Botley, a village just outside Oxford, England where Yu was finishing his visiting scholar's research work.

"Before New Year's Day, I wrote a New Year's card to the family," he said. "The next day they came to my gate and they were very happy, and the boy says 'Allen'—that's my English name—'you can even write Japanese!'"

Yu was surprised, and explained the characters in his card to the family were Chinese, not Japanese, but he understood the confusion.

"They know cartoons from Japan, toys from Japan, and motor cars from Japan, so they connect everything—like the characters—with Japanese products. So they recognize Chinese as Japanese."

Yu and some of his likeminded colleagues at Oxford University decided to help fill the cultural void by forming a non-profit association to teach Chinese language and culture. The initiative, which continued after Yu finished his studies, made him an ideal candidate to work with the Confucius Institute.

The local institute is a co-operative effort of the U of S and BIT, sanctioned by the Confucius Institute headquarters in Beijing. Under the partnership, salaries and program expenses are shared by BIT and the Confucius Institute, while the U of S, as the host institution, provides office and classroom space, and administrative support.

First established in its Beijing headquarters in 2004, the aim of the Confucius Institute is to promote understanding and friendship among China and other cultures.

Yu explained that the institute here builds on existing ties between China and the U of S, both on an institutional and personal level. The U of S has relationships with more than 30 Chinese academic institutions. More than 40 U of S faculty members in a wide variety of fields have links with China, collaborating with researchers and regularly recruiting Chinese graduate students to study here.

"A Confucius Institute is not an ordinary part or department of a university, although it's inside a university," Yu said. "It's a platform for universities to co-operate in Chinese language teaching and cultural exchange. For universities, they (Confucius Institute headquarters in Beijing) want to expand co-operation between the two universities in scientific research, teaching, and maybe staff training."

Yu himself was active as both a scholar and administrator before taking up his three-year post at the Confucius Institute here. A specialist in the philosophy of science, he hopes to collaborate with U of S colleagues, exploring possibilities in medicine, engineering, and social sciences.

"I want to have more opportunities to converse with local philosophers and maybe we can set up an exchange with BIT staff," he said. "I don't yet know what is possible, but I would like to see in the very near future what we can do."