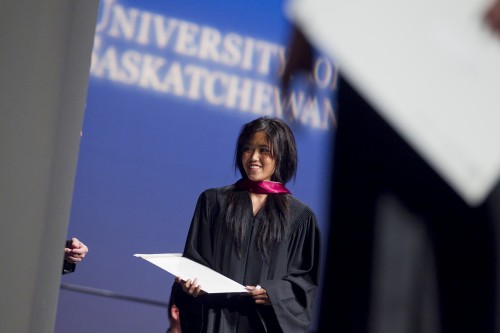 Changes to convocation will soon see the traditional post of orator incorporated into the ceremony at the University of Saskatchewan.

Making use of orators to read the names of degree recipients has been suggested from time to time, said University Secretary Lea Pennock, and now, with enormous convocation ceremonies each spring, the idea is finally taking hold. "It's a way of dividing up the speaking responsibilities and the hand shaking which, with seven ceremonies, is a lot for any president."

Currently, college deans read the names of degree recipients who then receive their parchment from the president. By having orators take over the name reading, deans will be able to present degrees themselves, an idea they enthusiastically support as a way to more closely connect with students, said Pennock.

The position of public orator dates back hundreds of years, particularly in the United Kingdom. Oxford University appointed its first orator in 1564 with responsibility for presenting honourary degrees, giving an oration for each person honoured.

The job also required composing addresses and letters, and giving speeches at important academic events, often in Latin.

Public orators are used less often in North America although they do exist, said Pennock. The Universities of Victoria and New Brunswick are two examples of Canadian institutions that make use of orators in convocation ceremonies.

Russel Isinger, the university registrar who works with Pennock organizing convocation, said the position requires a good resonant voice, consistent pacing in speech, attention to detail so no "with distinction" or "with great distinction" is missed, and good pronunciation skills "because we have a lot of very challenging student names. We always want our convocation ceremonies to be perfect and that means getting students' names right."

Several volunteer orators will be required because of the large number of convocation ceremonies; six or eight people in the role would be ideal, said Pennock. "We're hoping to recruit people from the university but not necessarily just faculty members. Orators could be staff or students as well."

Although the position is voluntary, the selection will involve an audition. Pennock also promised lunch for those orating at convocation. As an added perk, "people would get to put on their CV that they're the university orator. And once we have an orator, I wouldn't rule out other things we might get them to intone."

Anyone interested in auditioning for the position of university orator are invited to contact either Pennock or Isinger for details.