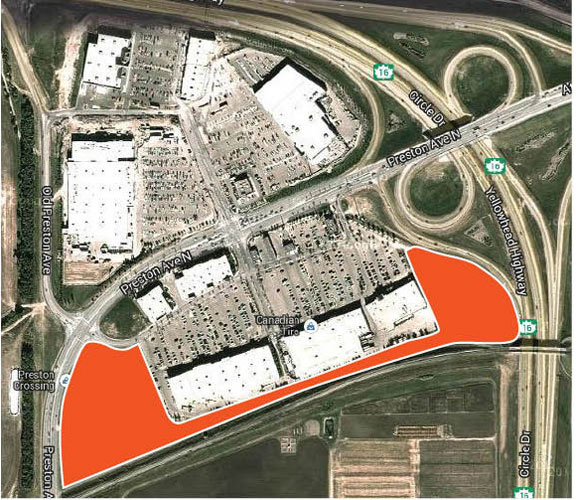 Judy Yungwirth, director of corporate administration, said a request was made to the city to change the zoning restrictions put in place when Preston Crossing was first proposed 10 years ago. The new rules will allow for small stores as well as services like restaurants and financial institutions on the fourteen acres to be developed - 10 acres along Preston Avenue west of Old Navy and Pet Smart plus an additional four acres east of Sobeys.

An RFP will be used to select a developer, she said. Harvard Developments Inc. had handled all previous construction "but we and Harvard couldn't agree on the value of the land so we are going to the market to decide. In previous phases, the developer set the rent based on the land value. It's been 10 years since we started phase one so the land remaining is definitely worth more."

She added there has been no breakdown in the relationship with Harvard, and the firm continues to maintain the first four phases of the development.

The RFP should be issued before the end of September and the phase-five developer will be selected "based on financial return to the university and the mix of tenants," said Yungwirth. "We have a lot of stores that are unique to Saskatoon and we want to continue with that character in the development."

Preston Crossing currently generates about $2 million per year in revenue for the University of Saskatchewan and about $10 million in scholarships have been awarded since the project began. Yungwirth pointed out it takes about four years to pay off the university's investment in infrastructure for each phase. This includes a development and servicing levy for roadways, improvements related to traffic flow, sewer, water and paving.

As with previous phases, the university was required to conduct a number of studies to validate the expansion. A market impact study showed a very low retail vacancy rate in Saskatoon of 2.5 per cent, said Yungwirth, "evidence that demand has exceeded the availability of retail space." A traffic impact study revealed that recent upgrades to the intersection at the west end of the development are sufficient to handle increased traffic.

She added that during the zoning application process, Preston Crossing was highlighted as a model for developments of this kind because of its attention to pedestrian and traffic flow as well as the attention paid to aesthetics through architecture guidelines and landscaping.