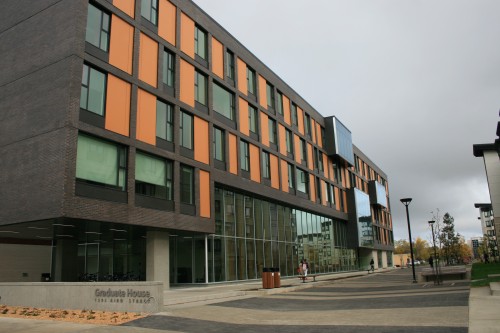 The bachelor, one-bedroom and two-bedroom suites in Graduate House are now home to about 120 students and, when fully occupied, the building will house 262 people, said George Foufas, assistant director of Consumer Services. Originally designated for graduate students only, admissions were opened up to undergraduates in professional colleges "as a way of broadening the scope of students in the building." A marketing campaign for the residence is underway and Foufas is confident all the beds will be occupied by fall 2014.

The timing of the opening of new undergraduate residences in College Quarter two years ago resulted in full occupancy immediately "but it usually takes a full academic cycle for a residence to fill."

Located behind the Williams Building on Aird Street, Graduate House is part of the College Quarter residence complex. Its amenities include apartment-style suites with private kitchens and bathrooms, common areas for meeting and study, and on-site laundry.

Foufas said space for a retail operation has been included on the main floor of the building and the university's Corporate Administration office is working with Consumer Services to select an appropriate tenant. Foufas said the building contractor continues to put the finishing touches on the building and deal with deficiencies but that work is expected to be complete by the end of October.

Consumer Services held a town hall meeting for residents in September to address issues related to moving into a new building. Foufas said the result was a website accessible by students that addresses their questions and concerns. "It will be a living document," he said, updated as Graduate House evolves. "It's a great tool for us to engage with the people in the building."

Graduate House has a student life co-ordinator, as do all residences, to organize programming, said Foufas, and Martin Gaal, a lecturer in political studies, has moved in as the faculty in residence to provide students with additional support.

With Graduate House filling and undergraduate residences fully occupied, Foufas said the next priority is housing for students with families. "I don't think there's anything in the works currently, but that's certainly the highest demand."